a
Naval Defense Industry News - USA
US Navy's P-8A Poseidon system enhancements by Raytheon add mission capabilities
The US Navy awarded a $15.5 million system development contract to Raytheon Company to develop a flexible, application-based architecture (ABA) for the
P-8A Poseidon maritime patrol aircraft
. The ABA will allow mission commanders to rapidly field new or enhanced capabilities through third-party software applications.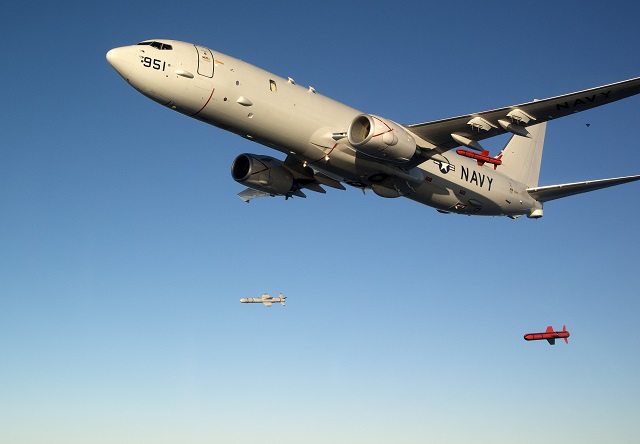 P-8A Poseidon during Harpoon release testing. Picture: US Navy

Raytheon's ABA design aligns with both the Department of Defense's "Better Buying Power Initiatives" and the Navy's move towards open system architecture.

"The goal is to use readily available technology to quickly upgrade the P-8A's warfighting capability," said Jerry Powlen, Raytheon Space and Airborne Systems' vice president of Intelligence, Surveillance and Reconnaissance Systems.

Raytheon will deliver two prototype ABA systems, leveraging unique expertise in:
Airborne COTS computing;
Services-Oriented Architecture and Infrastructure; and
Software-based mission applications.

"This open systems architecture can easily be used for other domestic and international customers looking to affordably enhance their airborne platforms," Powlen said.

The work will be performed in McKinney, Texas, and completed by March 2017. The contract positions Raytheon for the engineering and manufacturing development phase scheduled for 2017.

"Raytheon is uniquely qualified to bring enhanced mission capability to the Poseidon platform thanks to decades of experience and our partnership with the Navy on advanced electro-optical, infrared and RF sensors for many maritime and overland surveillance platforms," Powlen said.

Raytheon's team of open system architecture experts includes:
Northrop Grumman Information Systems;
L-3 Communications ComCept;
General Dynamics Advanced Information Systems;
Rite Solutions, a service-disabled veteran-owned small business.