a
Naval Industry News - Russia
Russia To Lay Down Two New Project 20380 Corvettes Instead Of Improved Version Project 20385
Two new
Steregushchy class corvettes
based on the original design, the Project 20380, will be laid down for the Russian Navy at the end of February in St. Petersburg, according to TASS quoting the representative of the Ministry of Defense Igor Dygalo. This comes as a surprise because all future corvettes for the Russian Navy were expected to be Project 20385 (Gremyashchy-class), an improved version of Project 20380. The reason may be European sanctions.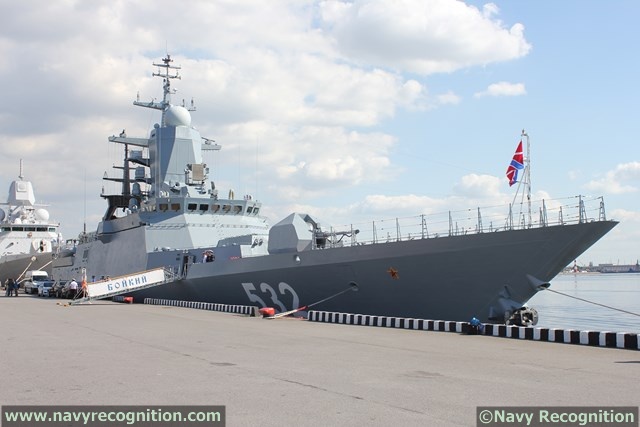 Steregushchy-class (Project 20380) corvettes Boiky of the Russian Navy Baltic Fleet
"
It is planned that in the last ten days of February the Severnaya Verf shipyard in St. Petersburg will start construction of two new Project 20380 corvettes on the same day
", - said Dygalo.
Project 20385 has been criticized as being too expensive and redundant in its armament.
Navy Recognition
believes however that another reason for Russia resuming Project 20380 corvettes construction may be European sanctions following the crisis in Ukraine: The improved design is fitted with MTU engines (from Germany) instead of the Russian DDA12000 diesel units in the original vessels. The recent sanctions mean Russia can not take delivery of the German made engines anymore.
Only two Gremyashchy-class corvette (of Project 20385) have been laid so far: The first one,
Gremyashchy
, in February 2012 and the second one,
Provornyy
, in July 2013.
The Gremyashchy-class corvettes differ from their predecessors of the Steregushchy-class by greater dimensions and displacement. They have a steel hull and composite superstructure, with a bulbous bow and nine watertight subdivisions. Compared with the
Soobrazitelny, Boiky, Sovershenny and Stoiky
ships, which are fitted with Redut air defense VLS system of 12 launchers on the bow, these new ships are equipped with a UKSK VLS system comprising 8 launchers for SS-N-27 or SS-N-26 cruise missiles instead.
Currently, the Russian Navy has four Project 20380 corvettes, all of which are in the Baltic Sea. Two more ships are being built at the Amur Shipbuilding Plant for the needs of the Russian Pacific Fleet and should be commissioned this year.
Link to Project 20380 Steregushchy-class corvette technical datasheet