a
Naval Forces News - USA
U.S. Navy Littoral Combat Ship USS Independence (LCS 2) To Test MCM Mission Package In Florida
USS Independence
(LCS 2 ) departed San Diego Jan. 30 for Naval Air Station Pensacola, Fla., to conduct operational evaluation and testing of the mine countermeasures mission package.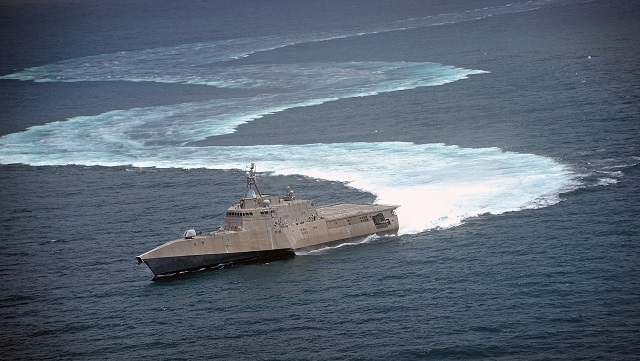 The littoral combat ship USS Independence (LCS 2) conducting full power propulsion and maneuvering tests in the Pacific Ocean off the coast of San Diego. (file U.S. Navy photo by Mass Communication Specialist 2nd Class Daniel M. Young/Released)

Independence, the lead ship of the Independence variant of the littoral combat ship, will sail through the U.S. 4th Fleet area of responsibility, transiting the Panama Canal and making a port visit to Cartagena, Columbia.

Cmdr. Michael Smith, commanding officer of LCS Crew 201, the Spartans, credited the ship's "superb state of readiness" to the professionalism of the men and women in the LCS community.

"It's a true testament to the tremendous skill, determination and teamwork of her crews, the Spartans and LCS Crew 202, the Rattlesnakes, as well as the Sailors and civilians of Littoral Combat Ship Squadron (LCSRON) 1," Smith said. "Each member of the team worked diligently to ensure we departed San Diego ready for the transit and, more importantly, to arrive in Pensacola prepared to execute MCM mission package testing so critical to our Navy's mission."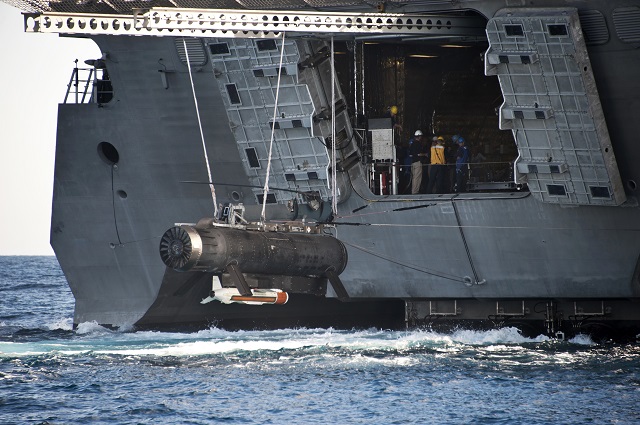 GULF OF MEXICO (Jan. 7, 2012) The Remote Minehunting System (RMS) and an AN/AQS-20 mine hunting sonar are brought aboard the littoral combat ship USS Independence (LCS 2) during developmental testing of the mine warfare mission module package. (U.S. Navy photo by Ron Newsome/Released)

Testing includes grooming the system for the remote multi-mission vehicle, and initial operational test and evaluation (IOT&E) of the mine countermeasure mission package integrated work-ups. IOT&E is the event that will transition the mission package from testing to fleet use.
The ship is expected to return to San Diego later this year.
LCS 2 is a trimaran-hulled small surface combatant built for high speed, which can conduct agile and mission-focused operations in the complex littoral environment. Built by Austal USA, the Independence variant of LCS can be rapidly reconfigured with specific Mission Modules to conduct Surface Warfare, Mine Countermeasures and Anti-submarine warfare.
Link to Independence class Littoral Combat Ship technical datasheet
Link to U.S. Navy's LCS MCM Mission Packages features