a
Naval Industry News - USA
Lockheed Martin & Marinette Marine Corporation Launche The Future USS Little Rock LCS 9

The Lockheed Martin-led industry team launched the nation's ninth littoral combat ship (LCS), Little Rock, into the Menominee River at the Marinette Marine Corporation (MMC) shipyard on July 18. The ship's sponsor, Mrs. Janee Bonner, christened Little Rock (LCS 9) with the traditional smashing of a champagne bottle across the ship's bow just prior to the launch. Little Rock is a
Freedom class LCS.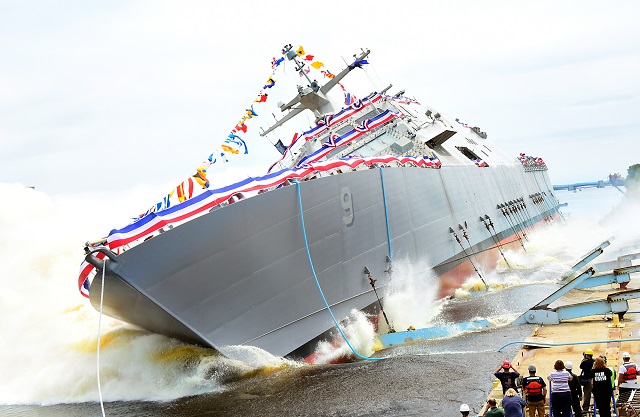 The ninth littoral combat ship, the future USS Little Rock, was christened and launched into the Menominee River in Marinette, Wisconsin, on July 18. Ship sponsor Mrs. Janée Bonner officially christened the ship by smashing a bottle of champagne across the bow. Picture: Lockheed Martin
"This future USS Little Rock will use interchangeable mission modules that empower her to face a variety of high-priority missions, from Anti-Surface Warfare to Anti-Submarine Warfare to Mine Countermeasures," said Vice President of Littoral Ships & Systems, Joe North. "She is ideally suited to navigate the reefs and shallows in the Asia-Pacific, as so well demonstrated by USS Fort Worth on her current deployment."
The Little Rock is one of seven littoral combat ships under construction at Marinette Marine.
The Lockheed Martin-led industry team is building the Freedom variant, and has already delivered two ships to the U.S. Navy. USS Freedom (LCS 1 ) successfully deployed to Southeast Asia in 2013 and is currently operating out of her homeport in San Diego, California. USS Fort Worth (LCS 3) is currently deployed in Southeast Asia, serving in the U.S. 7th Fleet to strengthen international relationships, engage in multi-regional naval exercises and further LCS capabilities using manned and unmanned assets.
Milwaukee (LCS 5) was christened and launched in 2013, and is slated to be delivered to the Navy this fall. Detroit (LCS 7) was launched in 2014. Sioux City (LCS 11) is in construction, and Wichita (LCS 13) had its keel laid in February 2015. Billings (LCS 15), Indianapolis (LCS 17) and St. Louis (LCS 19) are in the construction phase.

Link to Freedom class Littoral Combat Ship technical datasheet