a
Naval Forces News - Japan
Japan Defense Ministry Unveiled Details of "27DD" Class Railgun & Laser armed AEGIS Destroyer

According to the Japanese Ministry of Defense (MoD) request for proposal (RfP) to bidding contractors, the 27DD destroyers will incorporate a number of design changes compared to the first batch of Atago class guided missile destroyers.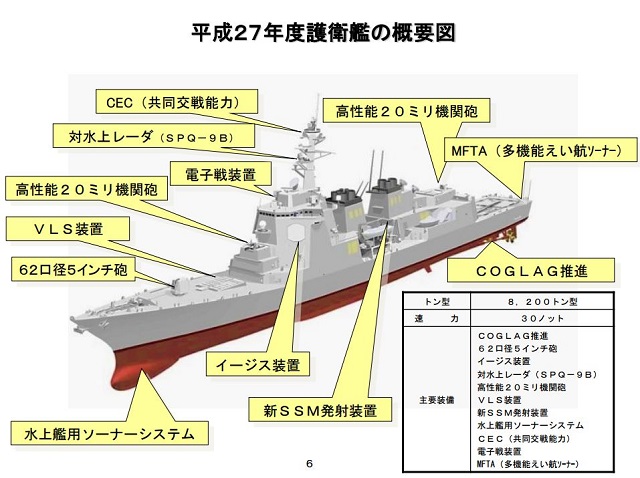 27DD AEGIS Guided Missile Destroyer technical specifications and layout

First, the hull of 27DD has been enlarged to an empty displacement of 8,200 tons compared to the original Atago's 7,700 tons. It is believed in the Japanese defense community that the enlargement of the hull was conceived in order to provide a necessary growth space for advanced naval weapon systems that are currently under development in Japan, and will be incrementally added to the ships' arsenal as they are developed -- such as railguns and laser point-defense systems.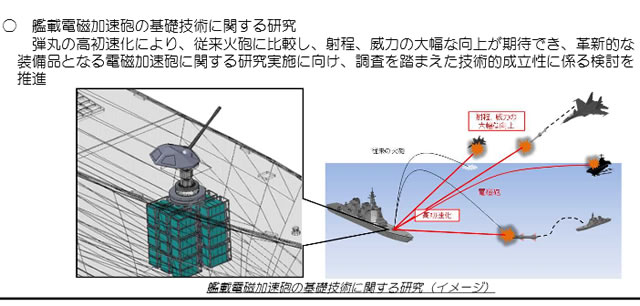 JAX high-calibre railgun for naval ships

Like all Japanese combatant ships now being constructed, the 27DD destroyers will be powered by a COGLAG propulsion system (these two, as would be explained again later, would represent a series of essential improvements to the ships' space and power management and distribution in light of the new weaponry that they will operate in the near future).

On the more minor technical front, the new ships will also equip a new surface-search radar (the AN/SPQ-9B from Northrop Grumman), new anti-ship missiles, a multi-static sonar system, and an enhanced Aegis combat system that will offer better Cooperative Engagement Capability (CEC).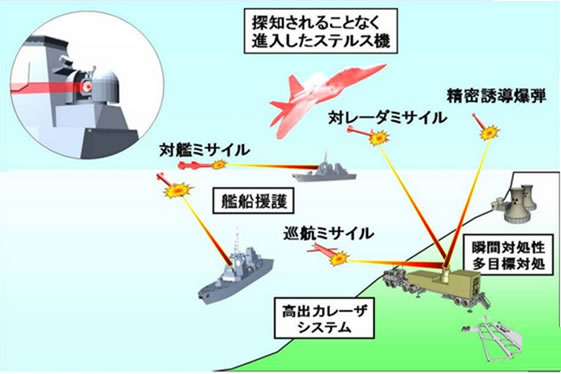 TRDI laser CIWS

Eventually, the Japanese MoD envisions their new AEGIS ships to be the first operating platform of an indigenous naval railgun and laser point-defense system that they are locally developing in Japan. The plan for the railgun armament was outlined in their recently published FY2015 defense budget report.

The Japan Maritime Self-Defense Force (JMSDF) currently deploys two AEGIS detroyer classes: Four Kongo-class destroyers and two newer Atago class destroyers (plus four Akizuki class destroyers often called "Japanese AEGIS").

2015 is the year 27 of Heisei era. This year (Heisei 27) the Japanese government has allocated the budget and formally begun the process of constructing and adding a new subclass of Aegis destroyers to its existing fleet of Kongo and Atago class AEGIS ships. This new subclass is officially called the "27DD". It is widely regarded as the second but a much improved batch of the JMSDF's Atago class destroyer (which in turn is an improvement of the Kongo class). The two 27DD vessels are expected to be commissioned in 2020 and 2021.