a
Naval Industry News - France
Ten Years from Today, DCNS Must Remain The European Champion in Naval Defense
European leader for the military naval sector, DCNS benefits from first-rate advantages to develop on its markets. With its almost 400 years of history and the skills of its teams, DCNS is willing to develop within 10 years a sustainable and profitable business in France, in Europe and internationally. The whole company is committed to reaching these goals thanks to its Progress Plan.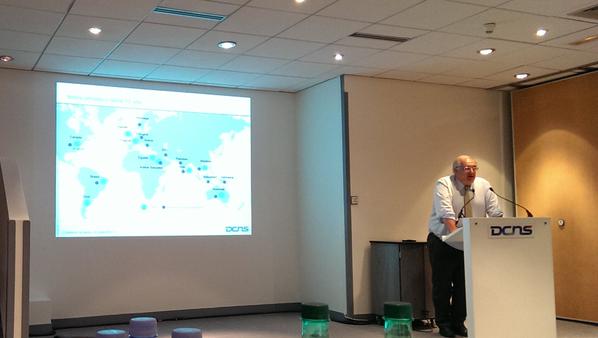 "Ten years from today, we must remain the European champion in naval defense and a worldwide reference" said DCNS CEO Hervé Guillou during the press conference. Picture: Navy Recognition
During a press conference which we were attending, Hervé Guillou, Chairman and CEO of DCNS announced that: "With a portfolio of innovative and competitive products and services, and an order book providing good forward visibility, DCNS will reach its targets thanks to the mobilisation of its teams. The Group has already demonstrated its capacity to successfully rise to the greatest of challenges. DCNS is now at a key moment in its existence and must find within itself the resources necessary for its growth."

A Progress Plan for a return to performance

After several months of discussions mobilising the teams at all levels of the Group, DCNS is now deploying a Progress Plan to re-balance its accounts as soon as 2015, re-establish its investment capacities and return to growth. This medium-term plan will act upon the industrial and managerial basics, the product policy, the indirect cost structures, the work organisation and the modernization of our IT and industrial infrastructures.

Within the frame of this plan, the Group is already in working order to initiate cost-reduction measures in the short-term representing savings of €100 million. Furthermore, DCNS has recently initiated new discussions with the social partners.

With re-established balanced accounts in 2015, DCNS aims to realise a turnover of €5 billion within 10 years, a half of which internationally and a part of it in marine renewable energies. The Group also intends to be among the most competitive actors on the market.

The progress achieved will allow DCNS to return to growth, supported by the three main pillars of its strategic roadmap: an increased and sustainable international presence, the development of sovereignty competencies in naval defence and controlled diversification in the energy sector.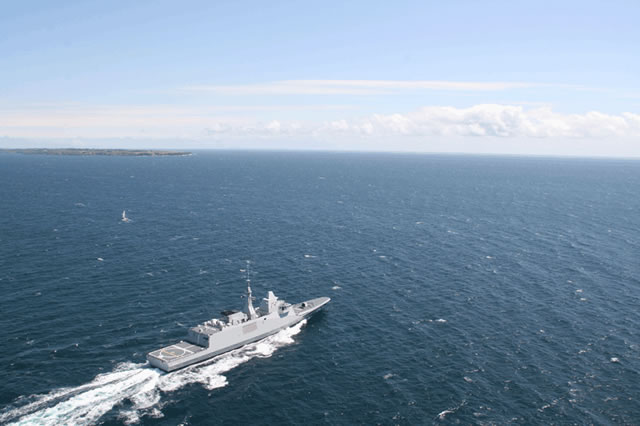 On Wednesday 22 July, the FREMM FFG-1001 Tahya Misr of the Egyptian navy left the Brest military port to join its home port in Alexandria, Egypt. Picture: DCNS
An ambitious international development plan

In a context of reduced Defence budgets in France and in Europe, and increasing competition, within the next ten years DCNS must be in a position to realise half of its turnover on international markets. To rise to this major challenge, DCNS is transforming its product policy to adapt it to the market and, in the frame of current and future contracts, is significantly increasing its multi-domestic presence. DCNS will strengthen its industrial anchoring in the countries in which it is already present. Furthermore, the Group will establish a local presence in a certain number of prospective countries. Last but not least, DCNS will seize all opportunities for local cooperation to support the industrial choices of its clients.

The desire to remain a pillar of sovereignty for France and its client countries

As a major partner of the French Navy, DCNS intends to sustainably develop its competencies and the resources necessary for protecting the sovereignty interests of France and its client countries. Through its complex programmes with major strategic implications, the Group is pursuing investments in the development of its industrial infrastructures, technologies and critical skills.

Controlled diversification in energy-related activities

After five years of technological developments in the area of marine renewable energy, DCNS is willing to realise between 15 and 20% of its turnover in this sector by 2024.
In order to achieve this goal, the Group has decided to focus its investments which will be exclusively dedicated to solutions allowing us to achieve a competitive electricity cost on the targeted markets and for which DCNS has a technological advance.
» In tidal energy, capitalising on its technological lead, DCNS is accelerating its industrial development and in 2015 will install two experimental tidal arrays in France and Canada, representing the preliminary steps before the commercial deployment.
In offshore floating wind energy, DCNS is pursuing its activities in cooperation with Alstom to develop a 6-MW integrated floating wind-turbine system by 2019.
» Ocean thermal energy conversion might be an interesting resource yet there are still important technological challenges to be met.

Through the implementation of this pro-active plan, DCNS teams have all the assets to ensure the success of this transformation. The Group is in working order. Its history, talents and innovations will enable DCNS to become a European naval champion and a world reference.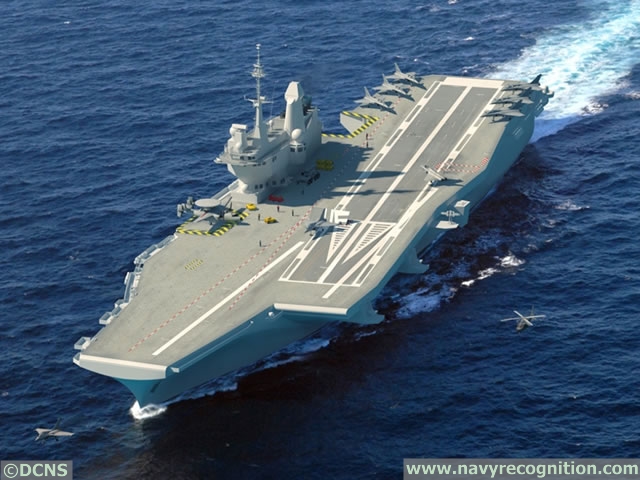 DCNS Evolved Aircraft Carrier (DEAC)
IAC-2 aircraft carrier for the Indian Navy
During the press conference,
Navy Recognition
asked Hervé Guillou about the
Letter of Request supposedly submitted last week
by the Indian Ministry of Defense for IAC-2 (indigenous aircraft carrier number 2). DCNS CEO started his answer with humor:
"The mail must be slow, we are still waiting for it".
Hervé Guillou then explained
"It is clear that India has an aircraft carrier need and globaly a need for about 200 new vessels of all types until 2030. But regarding the aircraft carrier, the program is not as advanced as reported in the Indian press. We are discussing with the Indian Navy and it is clear that DCNS is at the forefront of the few companies able to be a supplier in this field. We are very interested in this matter, but it has not started yet".


Finally, asked about the local partners, Herbé Guillou explained that DCNS has already worked closely for other projects with Reliance (Pipavav) and Mazagon Dock Limited.