a
Naval Forces News - USA
U.S. Customs, Navy & Coast Guard Intercept Semi-Submersible Vessel with 8 Tons of Cocaine
U.S. Customs and Border Protection Office of Air and Marine agents along with U.S. Navy and U.S. Coast Guard personnel intercepted a semi-submersible craft carrying more than 16,870 pounds of cocaine in the eastern Pacific Ocean on July 18.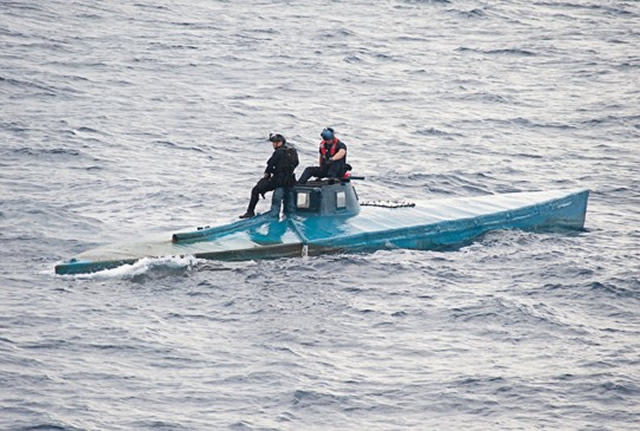 Semi-submersibles are used by drug traffickers to move large amounts of drugs and illicit contraband because the vessel's low profile can make detection difficult.

A U.S. Navy maritime patrol aircraft identified a self-propelled semi-submersible vessel hundreds of miles offshore in international waters. CBP and U.S Coast Guard air assets on patrol continued to monitor and track the vessel as part of a multi-faceted law enforcement effort.

A CBP crew aboard a P-3 Long Range Tracker aircraft subsequently detected a go-fast vessel in the area and alerted U.S. Coast Guard assets to intercept the vessel. A U.S. Coast Guard's cutter's boarding team gained control of the vessel after its helicopter employed warning shots. Additional U.S. Coast Guard personnel aboard a rigid-hulled inflatable boat boarded the semi-submersible and detained four individuals.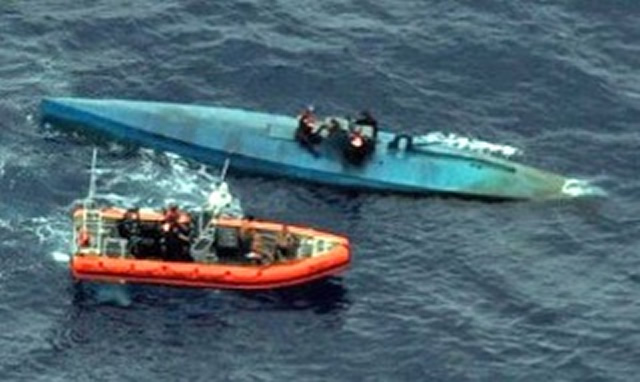 Law enforcement partners recovered 274 bales of cocaine weighing more than eight tons packed inside the semi-submersible drug-trafficking vessel. The estimated street value of the drugs is hundreds of millions of dollars.

Semi-submersibles are used by drug traffickers to move large amounts of drugs and illicit contraband because the vessel's low profile can make detection difficult. Similar to a submarine, these custom-built vessels operate with a significant portion of its hull below the waterline. Capturing a semi-submersible can be challenging with smugglers often attempting to scuttle contraband.

"Our extremely efficient and experienced aircrews are fully engaged in protecting the United States' maritime borders from all threats including those posed by drug trafficking organizations," said Director of National Air Security Operations Center – Jacksonville Robert Blanchard. "Our collaborative interagency partnerships and long-range tracking capabilities allow us to interdict dangerous vessels before they reach our coastal borders."

Operation Martillo includes the participation of 15 nations that work together to counter transnational organized crime and illicit trafficking in waters in the waters off Central America. Joint Interagency Task Force South, a National Task Force, oversees the detection and monitoring of illicit traffickers and assists U.S. and multinational law enforcement agencies with the interdiction of these illicit traffickers.

The multi-agency operations target maritime drug activity occurring in coastal waters along the Central American isthmus with the P-3 aircraft patrolling based at OAM's National Air Security Operations Center in Jacksonville, Florida and Corpus Christi, Texas.

OAM P-3s have been an integral part of the successful counter-narcotic missions operating in coordination with JIATF South. The P-3s' distinctive detection capabilities allow highly-trained crews to identify emerging threats well beyond the land borders of the U.S. By providing surveillance of known air, land and maritime smuggling routes in an area that is twice the size of the continental U.S., the P-3s detect, monitor and disrupt smuggling activities before they reach shore.

In Fiscal Year 2014, CBP's P-3s operating from Corpus Christi, Texas, and Jacksonville, Florida, flew more than 5,900 hours in support of counternarcotic missions resulting in 135 interdiction events of suspected smuggling vessels and aircraft. These events led to the total seizure or disruption of 126,489 pounds of cocaine with an estimated street value of $9.47 billion.

OAM conducted 90,739 flight hours and 42,859 underway hours during the last fiscal year nationwide, resulting in the arrest of 4,725 suspects, the apprehension of more than 79,672 illegal migrants, the seizure of 763 weapons, $147,805,097 in currency, and the interdiction of more than 1,155,815 pounds of illegal drugs, including 155,143 pounds of cocaine.