a
Naval Forces News - Australia
Royal Australian Navy's MRH90 Taipan Multi Role Helicopters Proving Indispensable
Personnel from HMAS Albatross' 808 Squadron have ably supported the Royal Australian Navy's role in the recent Exercise TALISMAN SABRE, embarked in HMAS Choules. Commanding Officer Choules Commander Chris Aulmann said that the reliable and flexible MRH90 helicopters operated by the Squadron provided essential logistical support, in both a ship-to-ship, and ship-to-shore environment.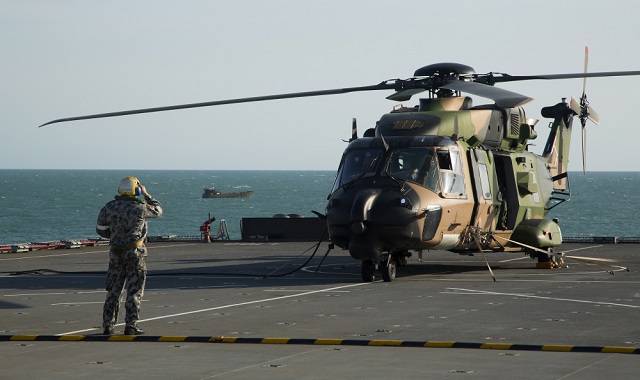 A Royal Australian Navy MRH90 helicopter conducts pre-flight checks before departing HMAS Choules during Exercise Talisman Sabre 2015. Picture: RAN

"Initially assigned a range of people, mail and cargo tasks by the Air Operations Cell on USS Bonhomme Richard, the role of the MRH90 grew to supporting front line operations, including the re-supply of rations and water to soldiers ashore.

"This was a great vote of confidence in the aircraft and team of 18 who make up Flight 1 onboard Choules," said CMDR Aulmann.

During the Exercise, the MRH90 also completed a record number of cross deck landings on US ships including to US Ships Bonhomme Richard, Green Bay, Ashland and Preble.

Flight Commander, Lieutenant Commander Steve Brown, said that it was vital that the Australian Defence Force could transport personnel to various ships throughout.

"As an extremely complex exercise with many moving parts, it was essential to the success of the Combined Expeditionary Force assault, that US and Australian planners were able co-ordinate and de-conflict both aviation and amphibious craft movements.

"The best way to do this was often by face-to-face meetings, which is why we were called upon to fly to so many different US Navy ships," he said.

A highly capable and versatile successor for the Black Hawk, the MRH90 has an endurance of greater than three hours, and a cruising speed in excess of 140 knots, the MRH90 is capable of carrying 10 fully equipped soldiers or 19 passengers in air-conditioned comfort, thereby reducing flying fatigue.

"The greatest advantage of the MRH90 is its advanced safety features.

"For example it's fitted with flotation devices which automatically inflate if forced to land on water, thereby giving a greater chance for the occupants to escape the aircraft safely," Lieutenant Commander Brown said.

Participating gave many of the flight crew and maintainers the opportunity to put practice into reality.

"As a result of our successful operations over the past few weeks, I am looking forward to the MRH90 making an even bigger contribution to the next TALISMAN SABRE in 2017", Lieutenant Commander Brown said.