a
Naval Industry News - Australia
Royal Australian Navy's NUSHIP Adelaide LHD embarks for sea trials
NUSHIP Adelaide, one of two Landing Helicopter Dock (LHD) ships being built for the Royal Australian Navy (RAN), left BAE Systems Williamstown on 17 June to begin sea trials, the company announced yesterday, June 23, 2015. After some initial trials in Port Phillip Bay, NUSHIP Adelaide will spend ten days on the water travelling to Sydney.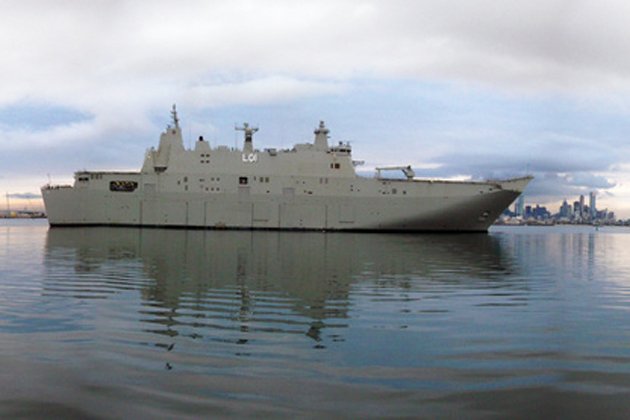 RAN's NUSHIP Adelaide Landing Helicopter Dock begins sea trials
(BAE Systems)
The current testing precedes a second period of sea trials in August, ahead of delivery to the Royal Australian Navy (RAN) later this year. The sea trials are conducted under a number of scenarios; some require the ship in certain conditions and/or water depths while others require the ship's systems in specific configurations.
In Sydney, NUSHIP Adelaide will be dry docked so her hull and flight deck can be cleaned and painted.
She will then set sail and undertake more sea trials on the return voyage to Williamstown, arriving in mid-July. The August sea trials will focus on communication and combat systems.
BAE Systems Director of Maritime, Bill Saltzer said: "We will undertake approximately 240 hours of testing over 20 days to ensure all systems perform to their capability. Some of the trials will run concurrently and cover everything from basic systems operations such as alarms, to the ship's manoeuvrability while at sea. We are on track to deliver NUSHIP Adelaide at the end of September this year. The ship is even more ready than HMAS Canberra was for her first sea trials, reinforcing that we have implemented lessons learned from the first of class and we have continued to improve our productivity."
The LHDs are the largest warships ever to be built for the RAN. As the prime contractor, BAE Systems has worked closely with the Defence Materiel Organisation to deliver the project with subcontractors Navantia, which constructed the hulls in Spain, SAAB and L3 which supplied the combat and communications systems respectively.