a
Naval Froces News - Russia
Two Project 21631 Buyan-M Corvettes to Join Russian Navy Following Acceptance Trials - TASS
Two Project 21631 Corvettes (Russian type classification small missile ships), the Zelyony Dol and the Serpukhov. According to the Russian Navy, both vessels designed by the JSC "Zelenodolsk design bureau" and built by the Gorky shipyard of Zelenodolsk in Tatarstan, will complete in November the acceptance trials and go into service with the Russian Navy.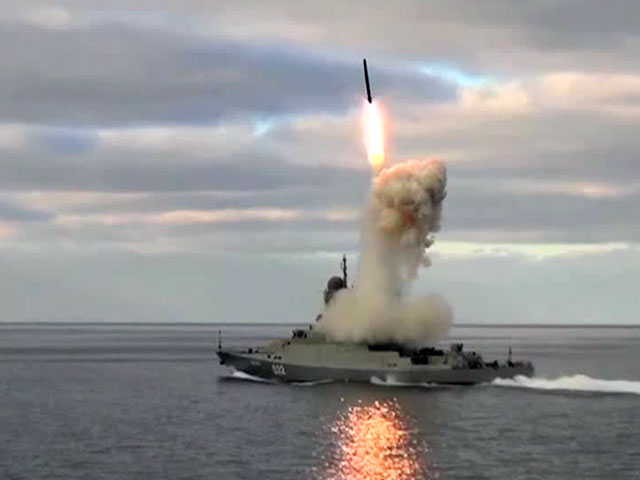 The Buyan-M Corvette "Uglich" launches a 3M-54 Kalibr anti-ship missile during maneuvers in the Caspian Sea.
Both ships are currently at the Novorossiysk naval base which provides all the stages of trials at the marine combat training range. The acceptance commission will test the corvettes, comprehensively checking their quality and compliance with the approved project specifications. The ship crews underwent training at the Navy's unified training center.

It is planned to build a total of 10 corvettes based on the improved Project 21631 Buyan-M. The corvettes Zelyony Dol and Serpukhov are the fourth and fifth ships of that series. The first three Project 21631 ships, Grad Sviyazhsk, Uglich and Veliky Ustyug, are in the Caspian Flotilla inventory. On October 7, together with the Project 11661K Gepard class corvette Dagestan, they participated in strikes, from the Caspian Sea, against the Islamic State terrorist organization' facilities in Syria.

Unlike Project 21630 corvettes, those of Project 21631 feature an almost twice as large displacement (1,100 tons) and a strike missile armament: Kalibr-NK missile system (NATO reporting name SS-N-27 Sizzler). This system's missiles are placed in a 3S14 eight-container vertical launcher. The Kalibr-NK system strikes with cruise missiles at seaborne (3M-54 missiles) and land-based (3M-14 missiles) targets. With a crew of 52 sailors and officers it navigates on its own up to 10 days to a range up to 2,500 miles. The class is also fitted with 100-mm and 30-mm guns, as well as Igla-1M air defense missiles.

© Copyright 2015 TASS. All rights reserved. This material may not be published, broadcast, rewritten or redistributed.