a
Naval Forces News - UK
AgustaWestland Delivered the First Upgraded AW101 Merlin HC Mk3 Helicopter to Royal Navy
AgustaWestland announced today that it had delivered the first of seven upgraded AW101 Merlin HC Mk3 helicopters to the Royal Navy as part of Phase 1 of the Merlin Life Sustainment Programme (MLSP).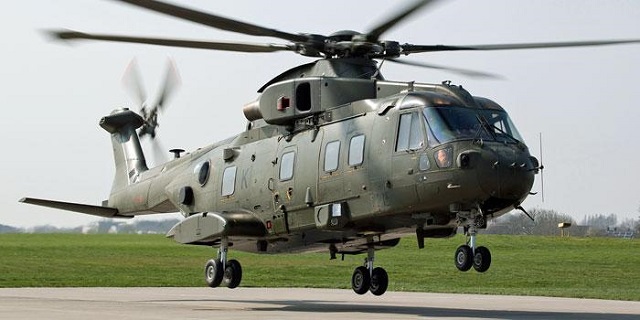 The first of seven upgraded Merlin HC Mk3 is delivered. The Aircraft will provide the Royal Navy with an amphibious support capability. 25 Merlin helicopters are expected to be modified under the Merlin Life Sustainment Programme. Picture: AgustaWestland

Under the MLSP design and manufacture contract, awarded to Finmeccanica – AgustaWestland in January 2014, 25 AW101 Merlin HC Mk3/3A aircraft will be converted to Merlin HC Mk4/4A configuration for the Royal Navy in two Phases as a replacement for the Sea King HC Mk4 in the amphibious support role. The seven Merlin HC Mk3 aircraft being upgraded under MLSP Phase 1 will provide an interim capability while the Mk4 aircraft are converted, and in turn will be converted to Mk4 standard. The first AW101 Merlin HC Mk3 aircraft arrived at AgustaWestland's Yeovil facility on 23 October 2014 and underwent a number of modifications, including the introduction of a folding main rotor head, naval lashing rings, revised twin wheel main undercarriage for ship operations, fast roping capability and various communications upgrades including the introduction of an 'I Band' transponder. The upgraded Merlin HC Mk3 first flew on 8 April 2015 and completed flight trials at the end of August. Following formal Release to Service in September the aircraft has now been delivered and will be followed by six further aircraft to provide an Initial Operating Capability (IOC) in spring 2016, when the final Sea King HC Mk4 aircraft will be withdrawn from service.

Defence Minister Philip Dunne said: "Delivery of this first upgraded Merlin marks an important milestone in our £330 million investment in the fleet, which will give our Royal Navy a total of 25 Merlin MK4 helicopters by 2020. These upgraded helicopters will improve the capabilities of the Merlins for their amphibious roles, including flying from our new aircraft carriers. This work on the fleet has sustained hundreds of jobs across British industry, including in the South West."

Air Vice-Marshal Julian Young, Director Helicopters at the MOD's Defence, Equipment & Support organisation, said: "The Merlin Mk3 has demonstrated already it ability to operate in urban and harsh deployed environments, and the interim-standard of the Life Sustainment Programme sees fast-time conversion of the aircraft to operate in its new Littoral Manoeuvre role. I am delighted that we are now firmly in the delivery phase of this programme, and are supporting the Royal Navy and Royal Marines with upgraded, modern Commando Helicopter aircraft. The Merlin Life Sustainment Programme represents a magnificent team effort led by AgustaWestland and the MOD, involving multiple industry suppliers, and delivering on budget and at this point ahead of schedule. I look forward with confidence at the whole programme delivering for the Commando Helicopter Force."

Under MLSP Phase 2, all 25 AW101 Merlin HC Mk4/Mk4A aircraft being delivered between 2017 and 2020 will be fully optimised for ship operations and include automatic main rotor blade folding and tail fold systems. The aircraft will also be fitted with a similar cockpit to the Royal Navy's Merlin HM Mk.2 aircraft, giving the Merlin fleet a more common cockpit featuring five 10" x 8" integrated display units, two touch screen units for controlling the aircraft's systems and mission equipment, as well as two cursor control devices for the tactical displays. Conversion of the first Merlin HC Mk3 to Mk4 standard has already started with the arrival of the first aircraft at AgustaWestland's Yeovil facility in August 2015. The upgraded Merlin HC Mk3, Mk3A, Mk4 and Mk4A aircraft will continue to be supported through the existing Integrated Merlin Operational Support (IMOS) contract, which has been in place since 2006 with AgustaWestland as prime contractor.