a
Naval Defense Industry News - France, UK
EURENCO to Provide Warhead for Sea Venom/Anti-Navire Leger (ANL) Antiship Missile
EURENCO is proud to announce that it was awarded in 2015 an important contract with European missile company MBDA for a key UK-French program: the Sea Venom/Anti-Navire Leger (ANL) anti-ship missile. EURENCO will industrialize and fill in its Sorgues plant the new Insensitive Munition (IM) warhead with an insensitive composition based on EURENCO's I-RDX ™. First deliveries to MBDA will begin after qualification. EURENCO is already the supplier of explosive fillings for nearly all major European anti-ship missile programs.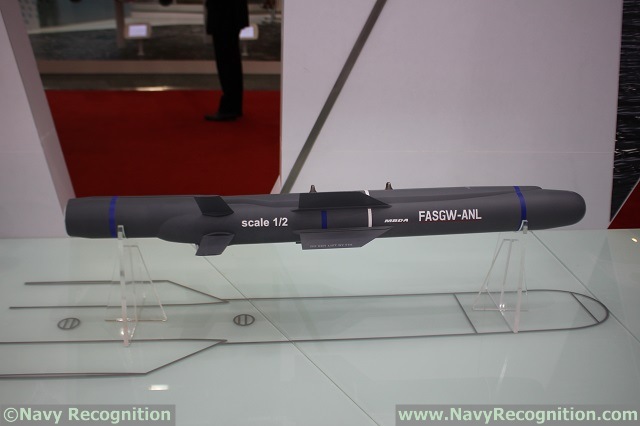 Sea Venom scale model on MBDA stand at LIMA 2015
EURENCO is the European leader in Energetic Materials with a large range of Explosives, Propellants and Combustible items for Defense, Security and Civil markets. It is a truly global company with 4 production plants in France (Bergerac, Sorgues), Belgium (Clermont) and Sweden (Karlskoga). EURENCO is also present in the United States through a commercial office in Washington DC.

In addition to the Warheads, Medium & Large calibre Business Unit, EURENCO has three other BUs: Combustible items (Modular charges for 155mm artillery systems, Combustible Cartridge Cases, Nitrofilm), Small calibre (propellants for Defense/Security and Hunting/Sport) and Civil (explosives and propellants for Oil & Gas, Space, Mining, Automotive safety). The company also owns the world's largest production capacity for 2 EHN (diesel fuel additive).
Video: MBDA Sea Venom at LIMA 2015
MBDA is developing a solution to meet the requirements of the British and French navies for a future helicopter-launched anti-ship missile. Weighing around 100kg, this missile will replace two other anti-ship missiles within the MBDA product portfolio. Sea Skua is used on the UK Royal Navy's Lynx and on the Sea King, Lynx and AB212 helicopters of seven other countries, including the navies of Germany, Brazil, Malaysia, Kuwait, Turkey and South Korea. The AS15TT is used on the Panther helicopter operated by Middle Eastern forces. FASGW(H)/ANL will equip the Royal Navy's AW159 Lynx Wildcat helicopters and the French Navy's helicopters.

Suitable for both blue water and cluttered littoral operations, FASGW(H)/ANL represents a major advance on the generation of missiles which it will replace from a technological standpoint. This new system provides very precise effects against a wide range of threats even in complex environments thus satisfying a recognised and common future need. A high speed two-way data-link communicates the images, "seen" by the missile's seeker, to the operator. Therefore, in addition to initiating an autonomous engagement, the operator can also monitor the action or even remain in control of the missile throughout the full duration of its flight.