a
Naval Forces News - Russia
Russian Navy Aircraft Carrier Admiral Kuznetsov Started Training in Barents Sea Following Refit
Russia's sole aircraft carrier, The Project 1143.5 aircraft carrier Admiral Kuznetsov has started its combat training in the Barents Sea in accordance with the schedule, Northern Fleet spokesman Vadim Serga said on Monday. As we reported in May, the flagship of the Russian navy went into the dock of a shipyard in Northern Russia for repairs.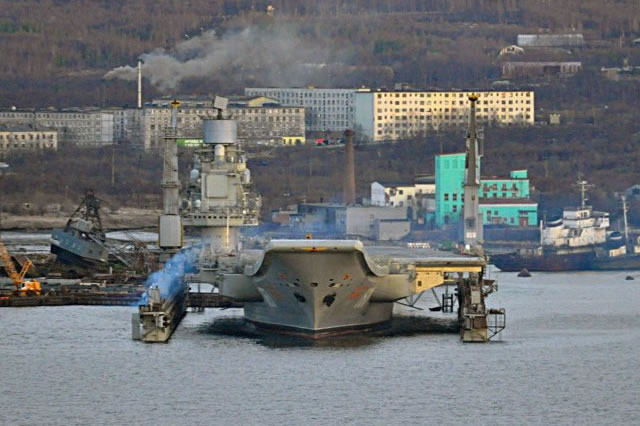 Russian Navy Aircraft Carrier "Admiral Kuznetsov" entered the dock 82 Shipyard in Severomorsk/Murmansk on Wednesday, May 13. Picture: Flotprom.ru

"The command of the heavy aircraft carrier Admiral Kuznetsov will focus on practicing crew cohesion during the ship's combat training in the Barents Sea as the crew has not gone to sea for several months," the Fleet's spokesman said.

The ship left the moorage in Murmansk in northern Russia and anchored off Severomorsk. The ship's crew practiced sailing to naval training areas, checked the readiness of the ship's weapons and equipment for operating in the sea.

The ship's crew will also drill certain elements as part of the course for surface ships' combat training.

Earlier, the Northern Fleet's press office rejected the information that the aircraft carrier Admiral Kuznetsov had allegedly been dispatched to Syria for an operation.

The Project 1143.5 aircraft carrier Admiral Kuznetsov is designed to gain sea and air supremacy in the fleet's area of operation to ensure its combat sustainability, deliver air strikes against the enemy's targets and support amphibious landing operations.

The aircraft carrier entered service in 1990. The ship has a full displacement of 58,000 tons, a length of 304.5 meters, a full capacity of 200,000 hp and a speed of about 30 knots. In addition to its air group of 24 or 26 fighter jets and 12 helicopters, the Admiral Kuznetsov is armed with anti-ship and air defense missile systems. The ship also has a ski-jump ramp and two aircraft elevators to support aircraft operations. The ship's crew totals 1,300 and its air wing has 660-strong personnel.

© Copyright 2015 TASS. All rights reserved. This material may not be published, broadcast, rewritten or redistributed.