a
Naval News - Taiwan
Taiwan plans to purchase 10 MH-60R Seahawk ASW helicopters
Taiwan's military yesterday confirmed that it is seeking to buy 10 MH-60R Seahawk anti-submarine warfare helicopters from the U.S. to replace its existing aging chopper fleet. Fielding questions during an interpellation session at the Legislative Yuan, Deputy Defense Minister Adm. Chen Yung-kang confirmed to lawmakers that the R.O.C. Navy is scheduled to purchase MH-60R Seahawk anti-submarine choppers.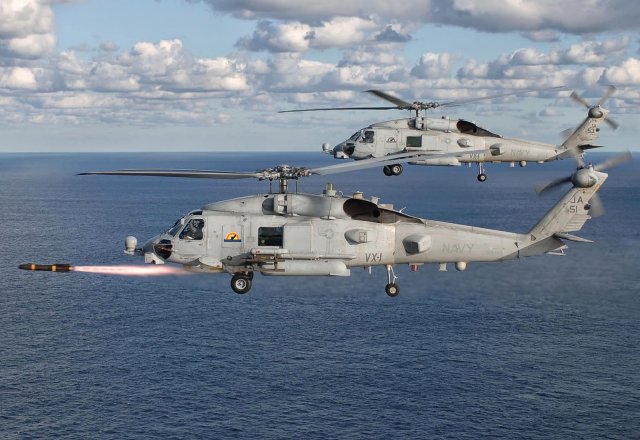 Two US Navy's MH-60R Seahawk ASW helicopters
"
We plan to purchase 10 MH-60R Seahawk helicopters,
" said Vice Adm. Hsiao Wei-ming, the Navy's chief of staff, in response to questions by a lawmaker during a hearing before the Legislature's Foreign Affairs and National Defense Committee.
The purchase is meant to replace the Navy's aging MD500 helicopters that have been in service for decades, he noted.
As Taiwan's military will soon acquire Perry-class frigates from the U.S. to meet its defensive needs, Chen said the Navy needs more cutting edge weapons systems to boost its anti-submarine warfare capabilities.
Elaborating on the upcoming project, the Navy Chief of Staff, Rear Adm. Hsiao Wei-min, said the Navy is aiming to buy 10 MH-60R Seahawks from the U.S. because the helicopter has much greater anti-submarine warfare capabilities than the Navy's current choppers.
The offensive capabilities of such models include Mk-54 air-launched torpedoes and Hellfire missiles as well as .50 caliber machine gun that will significantly enhance the firepower of the Navy's chopper fleet, he added.
The two military officials' comments came as a response to questions raised by ruling Kuomintang (KMT) lawmaker Lin Yu-fang, who said that the U.S. officials told him that Taiwan was interested in buying the helicopters during his previous visit to the U.S.
In response, Hsiao said the Navy hopes to buy this model to work with Perry-class frigates in the future together along with the existing S-70C helicopters, saying that these weapon systems will suffice in order to meet Navy's anti-submarine warfare need.
Hsiao also stressed that with the MH-60R deal, the military is aiming to purchase new choppers instead of those already in service.
Both officials, however, did not disclose how much of the defense budget will be allocated for the future deal.
Sources told local media that the Navy seeks to buy MH-60R Seahawks to replace its aging MD500 helicopters that have been in active service for more than 40 years.
Taiwan has been beefing up its anti-submarine warfare capabilities by replacing two squadrons of Northrop Grumman S-2T Turbo Trackers with 12 refurbished P-3C Orion ASW aircraft.
In 2010, the U.S. announced a US$3.1 billion deal with Taiwan for the purchase of 60 UH-60M helicopters to be delivered, 10 a year, until the last batch is transferred in 2018.