a
Naval Forces News - France
French Navy Creates a Seventh "Commando Marine" / Special Forces Unit Named "Ponchardier"
The French Ministry of Defence announced that defence minister Le Drian will lead the inauguration ceremony for the creation of a new "Commando Marine" (Navy Commando) unit on September 11 2015. According to the French Navy, this new special forces unit will be specialized in special operations support. In other words it will be some kind of "logistics" commando.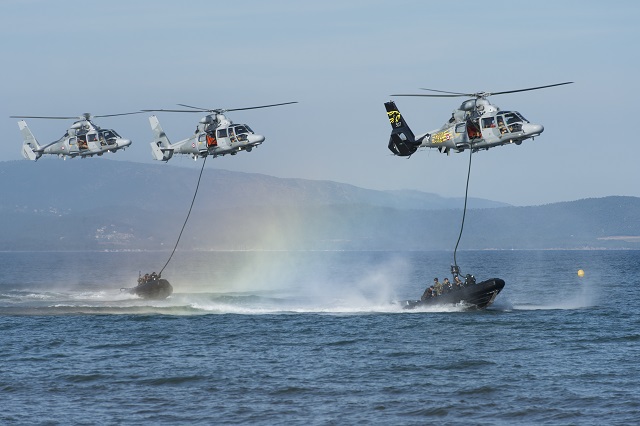 French Navy Commandos Marine fast roping on RHIBs during a demonstration.
Picture: S.Dzioba©Marine Nationale

This new elite unit was created on September 1st this year and is named after Vice Admiral Pierre Ponchardier (1909-1961) , commanding officer of aircraft carrier La Fayette and vice Chief of Navy Staff. He distinguished himself during the Second World War in service of the nation by creating with his brother the resistance network "Sosie".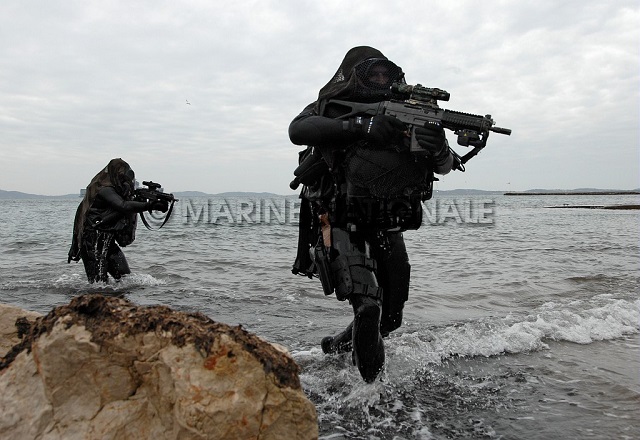 Two Commando Hubert combat divers during infiltration training.

Commandos Marine

The French Naval Infantry and Commandos Marine units are under command of the Force maritime des fusiliers marins et commandos (FORFUSCO). During operations, Commandos Marine are coordinated by the Commandement des Opérations Spéciales (COS or Special Operations Command).

The new "Commando Ponchardier" will join 6 existing Commandos Marine all based in Lorient, Brittany (except for one based in Toulon, Southern France):
Commando Jaubert & Commando Trepel: Specialized in counterterrorism, release of hostages,close quarters combat, assault at sea and land.
Commando de Montfort & Commando de Penfentenyo: Specialized in reconnaissance, intelligence, neutralization and JATC (joint terminal attack controller).
Commando Hubert: Combat divers unit specializing in underwater operations, counterterrorism & release of hostages. (It is the only Commando based in Toulon)
Commando Kieffer: Commands (C3I) special forces groups in the field and implements specialized support cells such as K9, CBRN, UAVs...

While FORFUSCO consists in a 2,500-man strong force today (approximately), Navy Recognition understands that this force will be strengthened with another 1,000 sailors by the end of 2016. Most of them however will join French naval infantry units (fusiliers marins) specialized in the protection and defence of vessels and key sites of the French Navy on land. With the increased terror threats, the French Government decided to deploy some of these units to secure key public sites on the French territory as well (such as airports, train stations and touristic areas).