a
Naval Forces News - Russia
Russian Navy Nuclear Powered Missile Cruiser Pyotr Veliky Docked for Maintenance
Russia's heavy nuclear-powered missile cruiser Pyotr Veliky (Kirov class) has been docked for repairs in the Murmansk Region in north-west Russia, Head of the Northern Fleet's press service Captain 1st Rank Vadim Serga said on Monday. The ship will be repaired at the 82nd shipyard in the settlement of Roslyakovo, he added.

"The repairs of the ship will be completed by the beginning of a new training year when the Northern Fleet's flagship is due to accomplish a set of scheduled combat training tasks in the sea," the officer said. The Northern Fleet reported in late August that the cruiser was planned to undergo repairs. Earlier, the Russian sole aircraft carrier Admiral Kuznetsov, also based in the North, underwent scheduled repairs.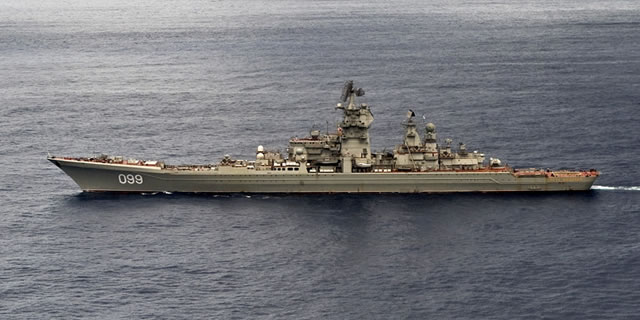 Pyotr Veliky (Peter the Great) heavy nuclear-powered missile cruiser (TARKR), the fourth Kirov class battlecruiser of the Russian Navy.

Pyotr Veliky is the fourth Kirov class cruiser (and the only one operational today), a class of nuclear-powered warship of the Russian Navy. It is the largest and heaviest surface combatant warships after aircraft carriers currently in active operation in the world.

The Kirov class's main weapons are 20 P-700 Granit (SS-N-19 Shipwreck) missiles mounted in deck, designed to engage large surface targets. Air defense is provided by twelve octuple S-300F launchers with 96 missiles and a pair of Osa-MA batteries with 20 missiles each. Pyotr Veliky carries some S-300FM missiles and is the only ship in the Russian Navy capable of ballistic missile defence.