a
Naval Forces News - France
French Navy Falcon 50 Maritime Surveillance Aircraft Deployed Beyond Arctic Circle
The French Navy announced that from August 26 to September 1st, a Dassault Falcon 50M Maritime Surveillance Aircraft belonging to Flottille 24F was deployed to Kangerlussuaq in western Greenland with a Royal Danish Air Force Bombardier Challenger CL-604. This deployement was a first for the French Navy naval aviation.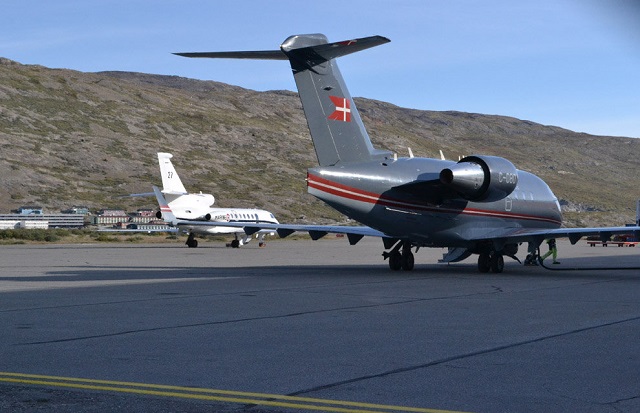 French Navy Falcon 50M and Royal Danish Air Force Bombardier Challenger CL-604 Maritime Surveillance Aircraft at Kangerlussuaq in western Greenland. French Navy Picture.

This deployment is a new realization of the strategic partnership between France and Denmark. While relying on the Danish excellence for operations in the Arctic, the primary purpose of this deployment for the French Navy was to acquire knowledge on the environment of the area, by correlating the crew observations with satellite observations (concentration of icebergs, assessment of maritime traffic in this area).

This deployment has also enabled to recognize the immense and unusual area for crews usually based in Brittany and specialized in search and rescue missions. Thus, together with the Danish Challenger crew - also specialized in search and rescue at sea - and a Royal Danish Navy vessel, HDMS Tulugaq, a SAR exercise was conducted: It consisted in looking for a man overboard in the southern region of Greenland, in the fjords near Narssarssuaq. It was a very good training for the French crew since the next day Joint Arctic Command instructed the French Navy crew to assist in a real SAR mission: A Canadian fisherman fell into the inhospitable waters of the West Greenland. He was eventually found and rescued safely.

Finally, the Falcon 50M landed for the first time on the the United States Air Force's northernmost base in Thule in the north of Greenland, to refuel before returning to Kangerlussuaq.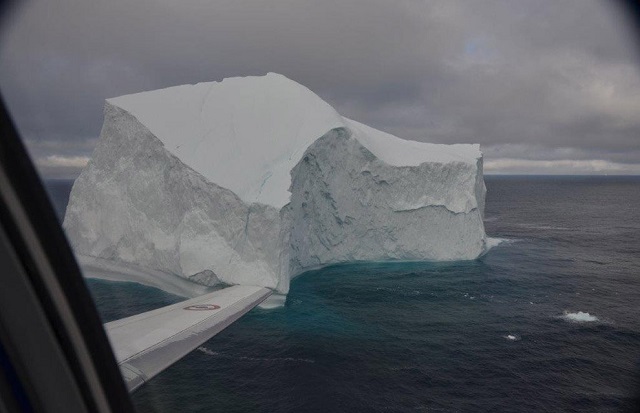 French Navy Falcon 50M Maritime Surveillance Aircraft Patrolling the Arctic. French Navy Picture.

This operational deployement is part of the interest of the French and European armed forces to Northern, Arctic region. With melting ice, maritime traffic in Arctic intensifies with more maritime routes between the Atlantic and Pacific areas. They are currently used 60 days a year, but the accentuation of global warming should allow a gradual lengthening of the period of navigation. However, if the navigation is now possible, it is nonetheless difficult. The risk of accident is high and therefore there is little infrastructure for maritime security in the area. This is why the French forces, in conjunction with other nations present in the area, are training on sea rescue procedures in the North and improve their knowledge of the area.