a
Naval Forces News - USA
U.S. Navy Coastal Riverine Group 2 Accepts the First Two of Twelve MK VI Patrol Boats

U.S. Navy Coastal Riverine Group 2 has taken ownership of the first two of 12 Mark VI Patrol Boats, in Portsmouth, Sept. 8. The MK VI, an 85-foot combatant craft, will provide a persistent capability to patrol shallow littoral areas for the purpose of force protection of friendly and coalition forces as well as critical infrastructure.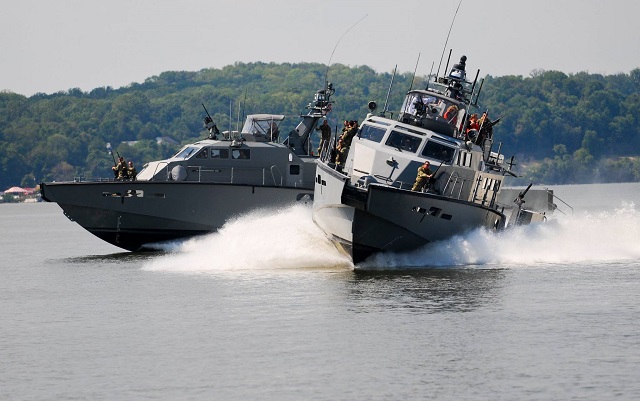 The Mk VI PB is the Navy's next generation Patrol Boat and will become a part of the Navy Expeditionary Combat Command's (NECC) fleet of combatant craft. US Navy picture

"The MK VI is an amazing boat with great capabilities," said Chief Boatswain's Mate Michael Schwartz, who operates the patrol boat. "The ability to conduct our mission without having to return to homeport every night is quite empowering. Considering how well it performs, I foresee an expanded mission set on the horizon. Plus, it is fun to drive."
The MK VI PB offers the Coastal Riverine Forces a variety of mission sets from waterborne to mine counter measures to theater security cooperation enabling operators to provide their critical security know how and force protection worldwide.
Navy Expeditionary Combat Command's Cmdr. Peter Berning emphasized the enhanced capabilities of the Navy's newest and next generation patrol boats.
"Globally transportable, the MK VI Patrol Boats can operate from amphibious ship well decks to forward locations while partnering with allied navies at a new and more effective level than at any time in recent history," said Berning, who added the unique design of the patrol boats is its configurability, which will provide the opportunity for installation of future systems directly supporting the operational commander.
The MK VI PBs will also provide operators enhanced capabilities such as speed to range to maneuverability.
"These patrol boats can reach speeds in excess of 35 knots and have a range of more than 600 nautical miles," said Berning, who added the redesigned pilothouse and a reconfigurable, modular main deck cabin provides space for a sizeable crew and their payload.
Over the course of the next few years, the Coastal Riverine Force will continue to accept patrol boats. The first deployment of the MK VI PBs is expected early 2016.
The Coastal Riverine Force (CORIVFOR) operates in harbors, rivers, bays, across the littorals and ashore. The primary mission of CORIVFOR is to conduct maritime security operations across all phases of military operations by defending high value assets, critical maritime infrastructure, ports and harbors both inland and on coastal waterways against enemies and when commanded conduct offensive combat operations.
To learn more, read our in depth coverage of the Mk VI Patrol Boat during Sea-Air-Space 2015