a
Naval Forces News - USA
US Navy Activates Aegis Baseline 9 Combat System on Oldest & Newest DDG 51 Class Destroyers

The U.S. Navy marked a unique milestone last week with the activation of Aegis Combat Systems on both the oldest, and the newest DDG 51 class destroyers. The future USS John Finn (DDG 113) achieved "light off" of its Aegis Combat System on Sept. 8, at the Huntington Ingalls Industries (HII) shipyard in Pascagoula, Miss, while USS Arleigh Burke (DDG 51) achieved light off on Sept 5 as part of the DDG Modernization program combat systems upgrade at BAE in Norfolk.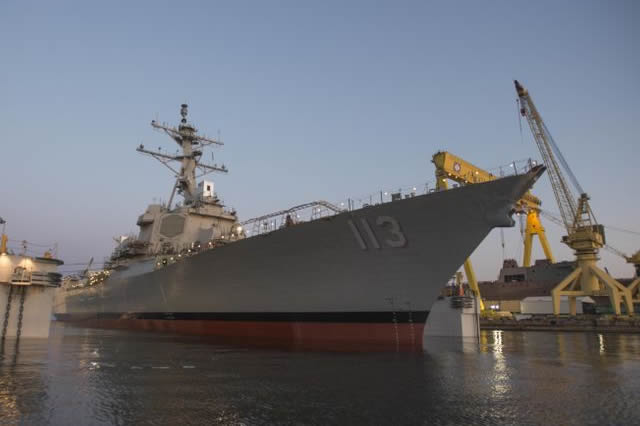 Ingalls Shipbuilding launched the Arleigh Burke-class Aegis guided missile destroyer John Finn (DDG 113) in March. John Finn is the 63rd Arleigh Burke (DDG 51) class destroyer, and the first of the DDG 51 Flight IIA restart ships. DDG 51 Flight IIA Restart ships will provide increased capabilities over previous flights of Arleigh Burke destroyers, including advances in anti-submarine warfare, command and control, and anti-surface warfare. Delbert Black will be the 4th of 8 planned Flight IIA "technology insertion" ships, which will contain elements of the Flight III ships projected to begin with DDG-124. Photo by Andrew Young/HII

Although Arleigh Burke was commissioned in 1991 and John Finn will commission 25 years later in 2016, they have virtually the same Aegis Weapon System and warfighting capabilities. Both ships will have the Aegis Baseline 9 program which includes an Integrated Air and Missile Defense (IAMD) capability incorporating Ballistic Missile Defense (BMD) 5.0 and Naval Integrated Fire Control - Counter Air (NIFC-CA). The Aegis baseline 9 IAMD destroyers have increased computing power along with radar upgrades that improve detection and reaction capabilities against modern AAW and BMD threats. The Aegis Combat System light off tests ensure all of the installed equipment is operational and communicative.
"Today is the day John Finn goes from being a ship to a warship" said Capt. Mark Vandroff, DDG 51 class program manager, Program Executive Office (PEO) Ships. "Our industry partners, Huntington Ingalls and Lockheed Martin, have both worked very hard to achieve this important milestone on time. I looked forward to completion of the ship's test program and taking John Finn to sea next spring. We are one step closer today to delivering John Finn's critical warfighting capability to the fleet."
John Finn is the 63rd Arleigh Burke class destroyer, the first DDG 51 Flight IIA "restart" ship and is the first new-construction destroyer equipped with the Baseline 9 version of the Aegis Combat System. The ship is expected to deliver to the Navy in 2016.
USS Arleigh Burke is currently undergoing an extensive Extended Selected Restricted Availability for combat systems modernizations as part of the DDG modernization program. The ship will also receive the AN/SQQ-89 A(V) 15 sonar suite, providing a significant upgrade in anti-submarine capability and upgrades to support the MH-60 helicopter. USS Arleigh Burke is expected to rejoin the Fleet in 2016.
"The DDG 51 new construction and modernization programs continue to leverage common processes and equipment buys to greatly increase capability while reducing configuration variance across the Fleet," stated Capt. Ted Zobel, program manager for surface ship modernization in NAVSEA's directorate for surface warfare (SEA 21).
The Aegis Baseline 9 delivers modularization of computer program functions and includes the replacement of original Military Specification (MILSPEC) computing infrastructure with a network-based, open architecture computing environment. Aegis Baseline 9C DDG variant delivers critical new capabilities, including Integrated Air and Missile Defense (IAMD), Naval Integrated Fire Control-Counter Air (NIFC-CA), and Standard Missile 6 (SM-6) Surface-to-Air Missiles. Aegis Baseline 9 also delivers important affordability with implementation of the Aegis Common Source Library software code based, Common Track Manager/Common Track Server software components, Common Processor System and Common Display System.
"The Aegis Baseline 9 Systems Engineering and Development effort to deliver full Integrated Air and Missile Defense as well as Integrated Fire Control, rivals the original Aegis computer program and computing infrastructure development in complexity in order to assure access through sea control and power projection in the toughest warfighting environments," explained Capt. Tom Druggan, Aegis Combat Systems program manager.
When operational, these multi-mission surface combatants will serve as an integral player in global maritime security, engaging in air, undersea, surface, strike and ballistic missile defense as well as increased capabilities in anti-submarine warfare, command and control, and anti-surface warfare.
The Naval Sea Systems Command directorate for Surface Warfare (NAVSEA 21) oversees comprehensive lifecycle modernization programs to ensure ships are primed and ready for tasking in the most sustainable, cost efficient manner. Program Executive Office Integrated Warfare Systems (PEO IWS) is charged with the mission to develop, deliver and sustain operationally dominate combat systems to the United States Navy. PEO Ships is responsible for executing the development and procurement of all destroyers, amphibious ships, special mission and support ships, and special warfare craft.

Link to Arleigh Burke-class Flight I & II destroyer technical datasheet