a
Naval Forces News - USA
U.S. Navy Announces Further Delays for Gerald R. Ford Aircraft Carrier (CVN 78) Delivery

The U.S. Navy announced that the delivery of Gerald R. Ford (CVN 78), first ship of the new Ford class of aircraft carriers, will be delayed six to eight weeks as more tests are needed before the vessel can start its sea trials campaign. The original delivery date was set for March 31, 2016.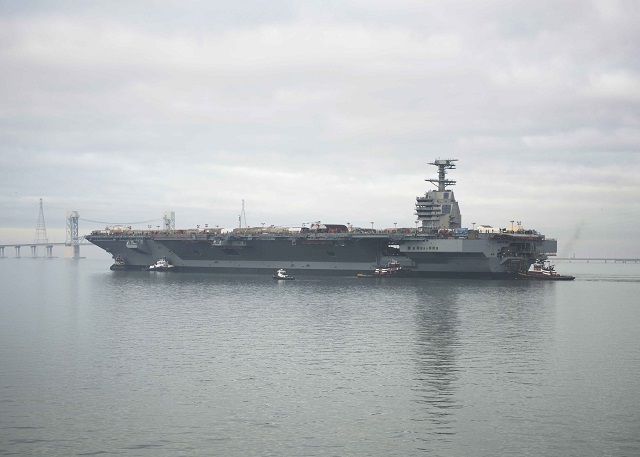 NEWPORT NEWS, Va. (Nov. 17, 2013) The aircraft carrier Pre-Commissioning Unit Gerald R. Ford (CVN 78) transits the James River during the ship's launch and transit to Newport News Shipyard pier three for the final stages of construction and testing. Ford was christened Nov. 9, 2013, and is under construction at Huntington Ingalls Industries Newport News Shipyard. (U.S. Navy photo by Mass Communication Specialist Second Class Aidan P. Campbell/Released)

Statement by Cmdr. Thurraya Kent, spokesperson for the Navy's acquisition directorate:

The Navy has identified a slight deterioration in the required progress on the CVN 78 shipboard test program. As a result, the sea trial schedule will be delayed about six to eight weeks. The exact impact on ship delivery will be determined based on the results of sea trials. CVN 78 was scheduled to deliver on March 31, 2016.
This prudent step provides the most affordable path to delivery. All the work and any associated schedule delays are being managed within budget and below the $12,887M cost cap.
Significant progress to date has been made on CVN 78, including:
• EMALS testing was successfully completed on the bow catapults and proceeding on schedule to complete in November on the waist catapults
• The crew moved aboard as scheduled in August and is living and feeding aboard. Compartment turnover to the crew remains on track.
• Dual Band Radar (DBR) testing has commenced including initial energization of Multifunction Radar/ Volume Search Radar (MFR/VSR) array faces
• The propulsion plants have completed their non-critical steaming program and are preparing for their critical test program
CVN 78 is 93% complete.

Link to Gerald R. Ford Class (CVN-78) Aircraft Carrier technical datasheet