a
Naval Forces News - China
Chinese Navy Fourth Type 071 LPD Amphibious Vessel Started Sea Trials
Chinese media recently released pictures showing the fourth People's Liberation Army Navy (PLAN or Chinese Navy) Type 071 amphibious transport dock LPD
Yimeng Shan
(hull number 988) on sea trials.
Yimeng Shan
was built Hudong-Zhonghua Shipbuilding, a wholly owned subsidiary of China State Shipbuilding Corporation (CSSC, the largest shipbuilding group in China) as was the case for the first three Type 071 vessels. It was launched in
January this year
.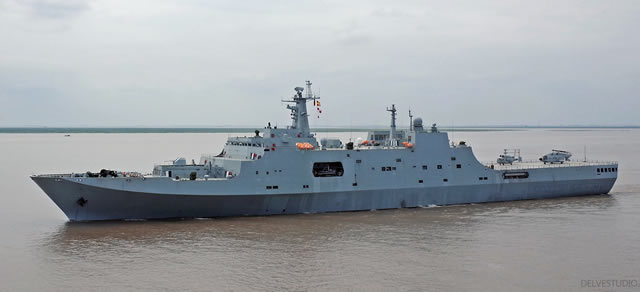 PLAN's Fourth Type 071 amphibious transport dock LPD Yimeng Shan (hull number 978) on sea trials

Yimeng Shan is set to be delivered to the PLAN in December 2015. In addition to the three vessels already in service: Head of class Kunlun Shan (998) commissioned in 11/2007, Jinggang Shan (999) commissioned in 10/2011, Changbai Shan (989) commissioned in 09/2012 and the new Yimeng Shan, two more vessels of the class are reportedly under construction at Hudong shipyard.

Type 071 landing platform dock
Type 071 (Yuzhao-class) LPD are the main amphibious platforms of the PLAN. They displace approximatly 25,000 tons, measure 210 meters long and 28 meters wide. The ship complement is 156 sailors plus 23 officers.
Each Type 071 has the capacity to accomodate one marine battalion, including 500 to 800 troops. During a visit in the UK, it was announced that the ship can carry up to 65 amphibious armored vehicles. The well deck was designed to hold four Yuyi-class LCAC. In addition, Type 071 LPDs can also supposedly carry 6 Z-8 medium (10 tons class) helicopters.
The ship is armed with one 76 mm gun and four 30 mm close-in weapon systems.