a
Naval Defense Industry News - France
ECA Group delivers its new generation USV INSPECTOR Mk2 for underwater survey and inspection
ECA Group announces the release of its new generation Unmanned Surface Vehicle (USV) Inspector MK2. Equipped with a wide variety of sensors, effectors and associated mission management software, this comprehensive platform offers a unique solution to various naval tasks.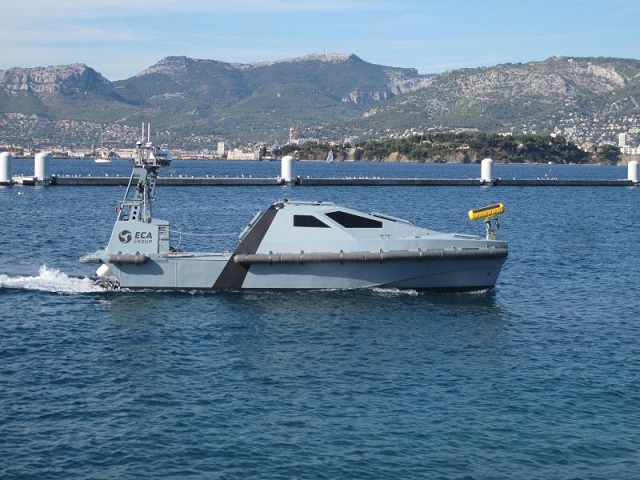 ECA Group new generation Unmanned Surface Vehicle (USV) Inspector MK2

This flexible and easy to reconfigure, multirole USV is 9 meter long and 2.95 wide, weighing less than 5 tons for a maximum speed over 35 Nds can easily be deployed and operated from non-specialized ships.

With its new furtive roof and fully equipped cabin, the INSPECTOR Mk2 can be used manned, remotely operated or in full autonomy. Its hull shape combines a high transit speed capability with low draught for shallow water operations and great motion stability for accurate data gathering. This behavior combined with a long range communication link make this platform ideal for underwater survey as well as homeland security operations.

This new generation USV will be delivered in its enhanced "imagery" configuration. It will be fitted with an interferometric hull mounted and a towed side scan sonar for shallow and medium depth underwater survey. Alternatively fitted with two remotely operated vehicles dedicated to inspection missions, SEASCAN, the USV will also be used as the support boat for underwater inspection and identification.

The first serial system USV INSPECTOR MK2, from a batch of 4 systems, has passed the qualifications at sea successfully and will be delivered to the end user end of September 2015.