a
Euronaval 2012 - Show Daily News
GE Offers Gas Turbine Hybrid Electric Drive Arrangements:
Ideal for Noise Reduction, Redundancy, Improved Fuel Economy
PARIS, France (October 25, 2012) – GE Marine reports today at Euronaval 2012 that its hybrid electric systems for military and commercial marine customers based on its LM aeroderivative gas turbines, motors and drives. These systems help reduce noise and improve fuel economy. By teaming with a variety of industry players, GE can provide customers unmatched gas turbine hybrid electric and all electric propulsion systems integration experience.

Hybrid electric arrangements cross-connect the ship service power system with the propulsion system by placing an electric motor and its associated motor drive in the drive train. At lower speeds, the propulsion system, such as engines are turned off and the electric motors provide cruising power.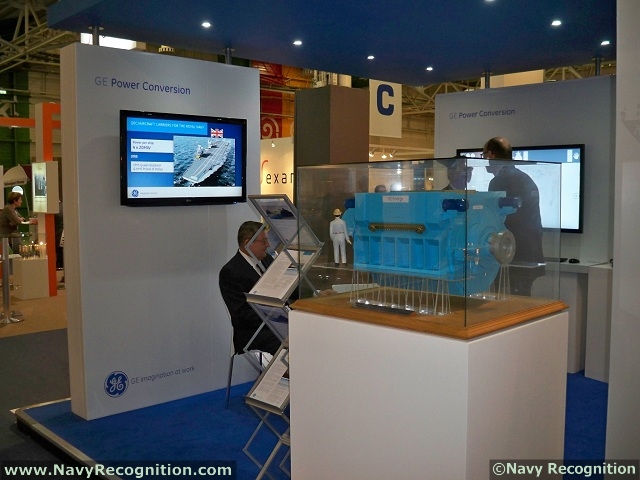 GE Marine stand at Euronaval 2012
"Many ship owners and builders are currently evaluating hybrid electric propulsion designs for existing or new build ships. Thanks to many years in this industry forming key partnerships, GE can now offer more comprehensive hybrid electric propulsion solutions for military and commercial customers," said Brien Bolsinger, general manager, GE Marine, Evendale, Ohio.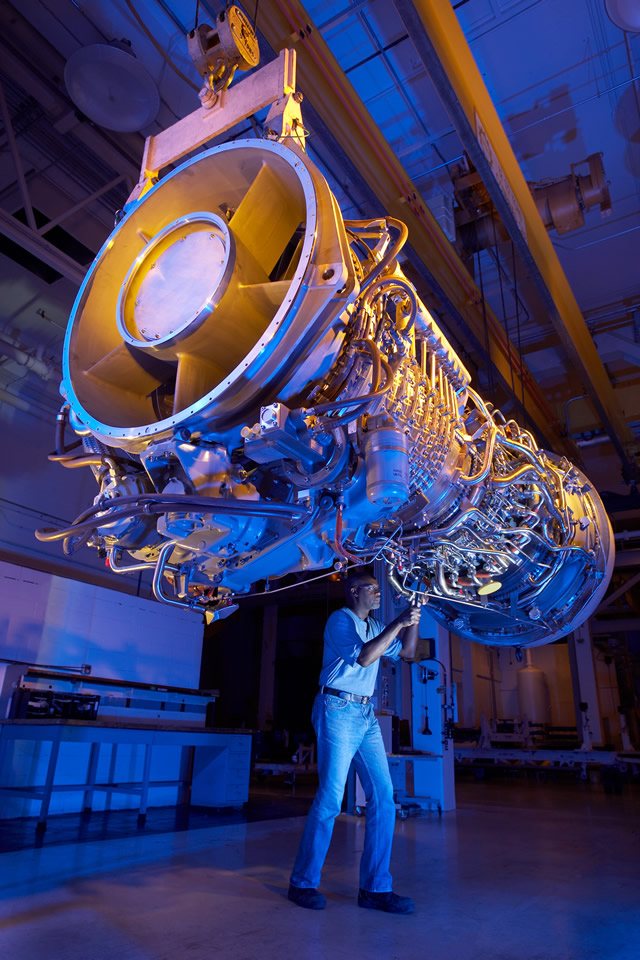 GE LM2500+G4 gas turbine
(Picture: GE Marine)
In fact, GE has provided components on seven gas turbine hybrid or electric powered ship classes in service or under construction, including the unique propulsion system on the United States Navy's LHD 8 USS Makin Island. GE offers a family of LM2500 gas turbines from 22 to 32 megawatts for twin or single gas turbine hybrid plants. In addition to the LHD 8-class ships, GE LM2500s are used on a variety of hybrid propulsion plants, including the German Navy's F124 and F125 frigates, and the Italian and French FREMM frigates.

Hybrid System Benefits

Hybrid electric propulsion provides navies with the following benefits versus traditional propulsion systems:
• Improved fuel economy
• Fewer installed prime movers for reduced propulsion costs
• Reduced diesel maintenance costs
• Flexible, integrated power and propulsion systems to direct power as needed
• Improved combat capability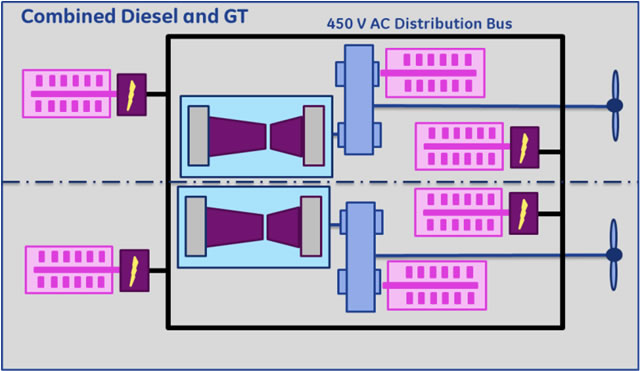 Figure 1
Hybrid Electric Propulsion

"In fact, in ships similar to the U.S. Navy's DDG 51 class, hybrid electric propulsion can improve fuel economy because the hybrid propulsion motor load during low speed operation can be consolidated with the ship service load. This allows the ship service generator set to run at more efficient operating conditions and the larger propulsion gas turbines to be shut down. Thus, fuel burn can be reduced by more than 8% depending on the ship's operating profile," Bolsinger added.

In new designs – particularly frigates from 3,000 to 7,000 tonnes – a hybrid electric arrangement improves efficiency. The traditional COmbined Diesel Or Gas turbine (CODOG) or COmbined Diesel And Gas turbine (CODAG) frigates have two gas turbines and two diesels for propulsion and typically four diesels for ship service power (see Figure 1). With GE's hybrid electric arrangement, the two propulsion diesels can be eliminated and replaced by electric motors. This arrangement can reduce ship construction, propulsion equipment, and maintenance costs while helping reduce noise and improve combat capabilities.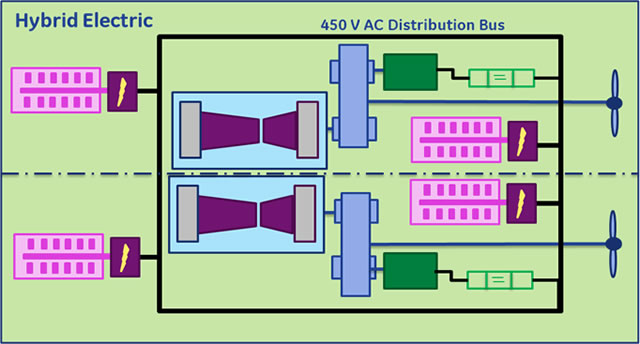 Figure 2
Dual Gas Turbine Hybrid Arrangement

GE's LM2500 gas turbines, for instance, can be applied in a dual gas turbine hybrid arrangement versus a single gas turbine configuration to provide the lowest technical, cost, schedule and operational risk. If incorporated into an existing LM2500 CODOG ship design, GE believes a dual gas turbine configuration requires the fewest ship modifications such as changes to bulkheads, uptakes, stability, the second platform level, and the deckhouse.

GE's dual gas turbine system configuration (see Figure 2) has two completely independent shaft lines to provide significant redundancy and survivability. With a dual gas turbine system, the crew is provided greater operational flexibility and ship top-end speed. Comparatively, if there is a failure, routine maintenance, or logistics delay related to the gas turbine or combining gearbox in a single gas turbine configuration, a loss of 80% to 90% of ship propulsion power would result.

Gas turbine hybrid electric systems may be designed for low noise when cruising on the electric motors. Low noise, hybrid systems can use shaft-wound motors, decoupling the gearbox from the drive train during low speed operations. The motor also can be used for astern power, allowing for quieter fixed-pitch propeller systems compared to the noisier and less efficient controllable-pitch propellers of CODOG or CODAG arrangements.

Visit GE Marine at Euronaval 2012 on stand D43-C46