a
Euronaval 2012 - Show Daily News
Sagem's SIGMA 40 navigation systems surpass 8 million hours of operation in service
The SIGMA 40 shipborne inertial navigation system built by Sagem (Safran group) has passed the mark of 8 million hours of operation in service, demonstrating exceptional reliability as shown by feedback from many of the world's navies.

These results underscore the superiority of laser gyro technology for navigation systems being operated in harsh environments.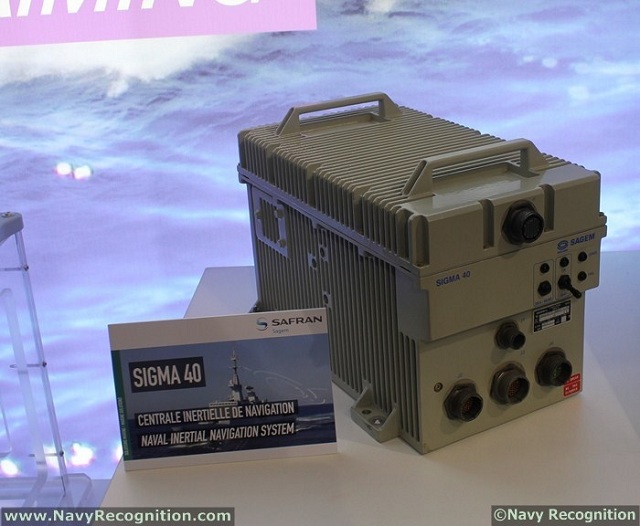 Sigma 40 Naval Inertial Navigation System on display at Euronaval 2012
Part of the ship's combat system, the SIGMA 40 features high-precision measurements, reliability and performance stability over time. It significantly enhances the efficiency of a warship's sensors, weapons and self-defense systems.

Several versions of the Sigma 40 are available to cover the different operational requirements on all types of ships: surface vessels (from corvette to aircraft carrier), and the SIGMA 40XP version for conventional, AIP or nuclear submarines.

The SIGMA 40 has been chosen by 35 navies, and is now the best-selling naval inertial navigation system in the world.

The French navy has chosen the Sigma 40 for all major ships: FREMM and Horizon multimission frigates, Mistral command and force projection ships, Rubis-Améthyste class nuclear attack submarines and the future Suffren class nuclear submarine (Barracuda program), and most recently the Adroit ocean-going patrol boat from the DCNS. In international markets, the SIGMA 40 has been chosen for Baynunah corvettes (United Arab Emirates), Skjold patrol boats (Norway), the new stealthy frigates and Scorpène submarines (India), and PKX patrol boats, FFX frigates and, most recently, modernization of U-209 submarines (South Korea).