a
Euronaval 2012 - Show Daily News
iXBlue won the Export Trophy, showcased its GAPS positioning system at Euronaval 2012
At Euronaval 2012, iXBlue, specializing in navigation and acoustic systems, showcased its GAPS USBL (Ultra Short BaseLine) positioning system. The company was also the recipient of this year's Euronaval Export Trophy.

The trophy was presented by the French Minister of Defence, Jean-Yves Le Drian, during the opening ceremony of Euronaval on Tuesday, October 23 in Le Bourget, Paris. The medium sized company has facilities in France, North and South America, the UK, the Netherlands, Germany, Italy, Dubai, China, India, Singapore and Australia. It offers global 24/7 service and support to its customers.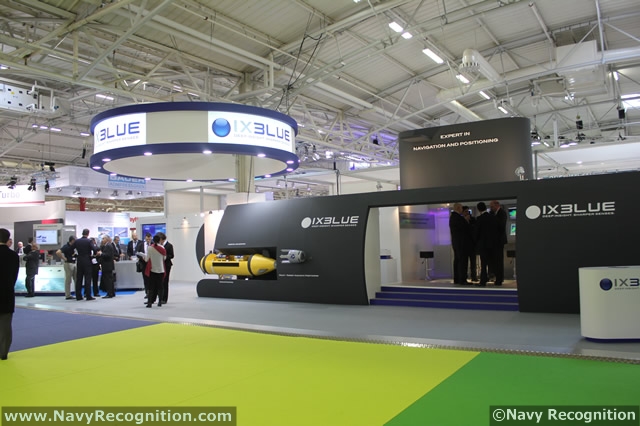 iXBlue stand at Euronaval 2012
iXBlue is a Global Solution Provider delivering Inertial, Motion, Subsea Acoustic, Seabed Mapping and Sub Bottom Profiling Products and Systems together with Geophysical Services and Shipbuilding. iXBlue was the first company designing Fiber-Optic based gyroscopes.

The GAPS pre-calibrated positioning system was showcased among other products on iXBlue' stand during Euronaval,

Submarine navigation and positioning systems have to tackle two fundamental problems:
» The positioning of the submarine
» The supply of accurate data to the weapon system

These two issues lead to strong operational constraints regarding the discretion, accuracy, and reliability of the navigation system. The current tendency to carry out operations closer and closer to coast-lines further exacerbates these problems. iXblue's approach is built upon perfect mastery of the key technologies involved in submarine navigation (inertial, acoustic positioning and imagery, navigation data processing).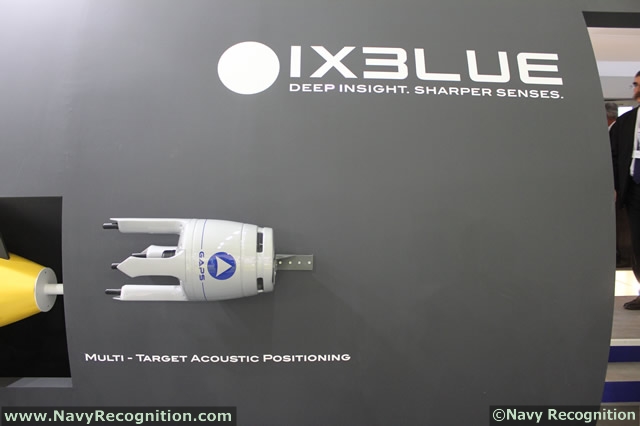 iXBlue GAPS USBL (Ultra Short BaseLine) positioning system for Submarines
The pre calibrated Global Acoustic Positioning System (GAPS) combines USBL, INS and GPS technologies. The most accurate USBL in its category, it works in deep or extremely shallow water and difficult environments where other systems have failed.

Benefits:
» No mobilization/demobilization: fully operational in less than 1 hour
» Adapted to all applications: shallow and deep water, and noisy environments
» Easily transferrable from one vessel to another
» Robust to acoustic and GPS hazard