a
Euronaval 2012 - Show Daily News
French Company Sillinger presents its 1200 RIB UM military inflatable boat at Euronaval 2012.

For 50 years, the French Company Sillinger designs and manufactures foldable and semi rigid boats especially for professional of military, security, defence sectors and for civilian use. At Euronaval 2012, the International Maritime and Naval Defence Exhibition of Paris, Sillinger showed its
1200 RIB UM semi-rigid inflatable boat
in military configuration, one of the largest boats of the SILLINGER range.
Ivan de Quatrebarbes, General manager of Sillinger presents the 1200 RIB UM semi-rigid inflatable boat for military use at Euronaval 2012 during an interview with Navy Recognition, the online magazine for Naval Defence and Maritime Security industry.
Today many armies in the world and in particular the Special Forces have expressed the need for fast and light inflatable boats able to perform a wide range of missions. With the new threats as the pirates in Gulf of Aden, this type of boat has demonstrated its effectiveness allowing fast actions with firing power against the pirates who use similar boats.
With its 1200 RIB UM semi-rigid inflatable boat, the French Company Sillinger presents provides today a state-of-the-art solution for use by special-operations units or armed forces for a full range of missions as landing on beaches, reconnaissance, attacks, safety and more.
At Euronaval, the Sillinger 1200 RIB UM semi-rigid inflatable boat was showed with a crew cabin mounted at the front of the boat, equipped with many electronic equipment as GPS, Radio, radar systems and IR camera to allows to navigate in all weather and sea conditions and see what's happen in night and day or identify people and other boats.
To increase the fire power, the Sillinger 1200 RIB UM can be equipped with gun side mount armed with 5.56 mm or 7.62 mm machine gun and one more heavy machine gun 12.7mm at the bow.
The Sillinger 1200 RIB UM showed at Euronaval 2012 was motorized with three Mercury 300 Verado six-cylinder.
During an exclusive interview with Navy Recognition at Euronaval 2012 , Mister Ivan de Quatrebarbes, General manager of Sillinger has announced that the 1200 RIB UM will be demonstrated in real sea condition of use at Lorient (France) in November and December 2012 and after, the boat will be at IDEX/NAVDEX (International Defence and naval exhibition) in Abu Dhabi (United Arab Emirates) for sea trial and invite all customers to try the boat at these two events.
IDEX/NAVDEX which will be held from the 17 to 21 February 2013 is the most important international defence and naval exhibition in the Middle East region demonstrating the latest technology across land, sea and air sectors of defence. It is a unique platform to establish and strengthen relationships with government departments, businesses and armed forces throughout the region.
Army Recognition and Navy Recognition are official media partners for these two events, and they provide Online Show daily news for IDEX and NAVDEX 2013.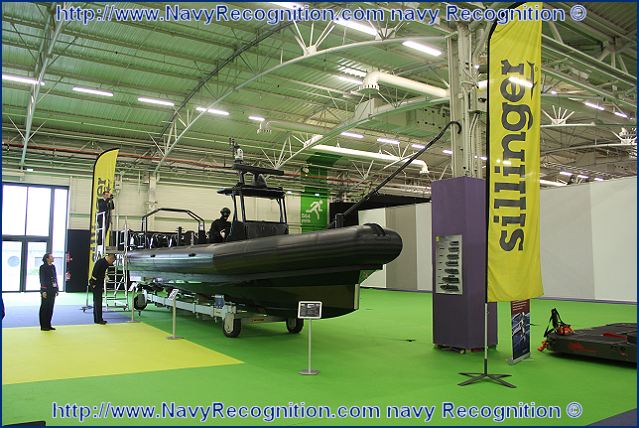 Sillinger 1200 RIB UM semi-rigid inflatable boat at Euronaval 2012