a
DIMDEX 2014 Show Daily - Terma C-Guard
Successful C-Guard Sea Acceptance Test onboard the Danish Frigate HDMS "NIELS JUEL"

Copenhagen and Dimdex, March 24, 2014 – Terma and The Danish Defence Acquisition and Logistics Organization (DALO) recently conducted a successful Sea Acceptance Test (SAT) of Terma's C-Guard Decoy Launching System onboard HDMS "NIELS JUEL".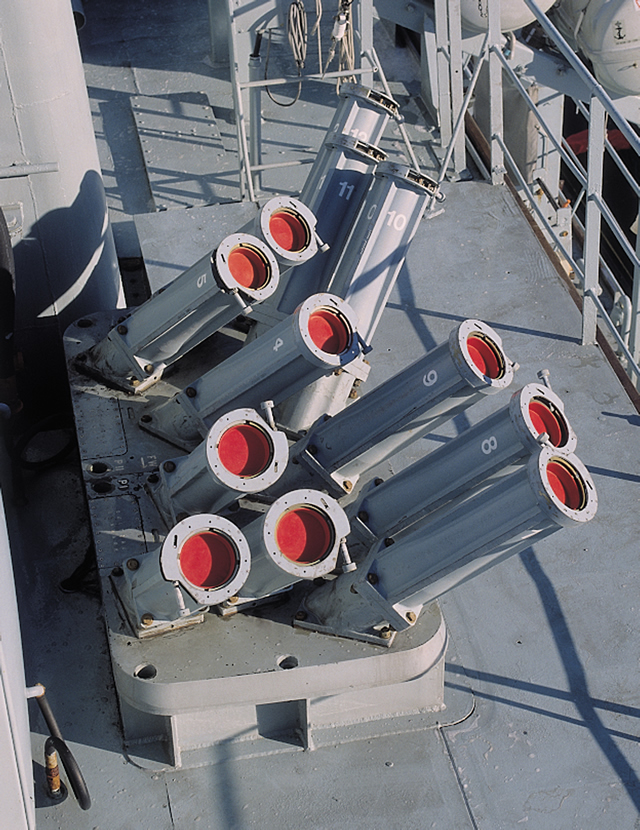 TERMA 12 Tubes naval decoy system
(picture: TERMA)
The C-Guard System is a decoy launching system for naval platforms made to defeat stream attack with multiple missiles and torpedoes from multiple directions.

The SAT was conducted in 6 hours and comprised a full functional and operational system test including a full integration test with Terma C-Flex Combat Management System.

C-Guard is now operational on the two Danish frigates HDMS "PETER WILLEMOES" and HDMS "NIELS JUEL" of the Iver Huitfeldt class. A similar test is planned later this year for HDMS "IVER "HUITFELDT". Part of the test was a live firing exercise with Mk214 Seagnat 130mm chaff seduction round as well as Mk 216 advanced chaff distraction round decoy ammunition. Each vessel is equipped with 8 x 6-tubes Mk137 Decoy Launchers.

The system will effectively counter advanced threats like small range gate Radio Frequency (RF) missiles, imaging InfraRed (IR) seekers missiles, and advanced next generation torpedoes. These threats require fast response and utilization of advanced tactics supporting the latest in decoy technologies available.

C-Guard was originally developed to protect naval platforms against airborne threats but as a result of a retrofit program the system as of today also offers an effective protection against torpedoes. With more than 150 systems deployed and operational at +15 navies around the world C-Guard has proven to be a cost-effective solution with a high degree of operational time.