a
DIMDEX 2014 Show Daily - DCNS Gowind Corvette
DCNS Showcasing its FREMM family of multimission frigates at DIMDEX 2014
The complicated diplomatic and political situations of today's world require a modern navy to have high performance ships with a comprehensive range of weapons to provide and effective deterrent and guarantee territorial integrity. When graded offensive power is necessary, such multimission ships must have the stealth qualities and fire power to overcome any threat.

Thanks to their flexibility and availability, FREMM frigates meet the operational needs of navies all over the world. They are designed to deal with all types of air, surface, subsurface and land-based threats, and are amongst the most technologically advanced and competitively priced on the world market.
Hervé Boy, Frigates Marketing Manager at DCNS, presents the Gowind corvette, FREMM frigate and SETIS CMS during DIMDEX 2014.
DCNS has handed over the multimission frigate Mohammed VI to the Royal Moroccan Navy on time, on budget and with performance as promised. This is the second vessel of this type designed and built by DCNS in a production run of 12 ships for the French and Moroccan Navies. The first French FREMM Aquitaine has been delivered to the French navy in November 2012, the second one Normandie is under sea-trials and the third one Provence has been launched last September.

The combat system is fully integrated through a new generation Ship Enhanced Tactical Information System (SETIS), based on combat proven Horizon class CMS built by DCNS. It is a realtime-reconfigurable CMS (combat management system), with full capabilities in all warfare domain and fully interoperable within a joint and international force. SYLVER vertical launching system offers a multimissile capability. Efficient against all types of torpedo, CONTRALTO V system is adaptable to different launchers. For antisubmarine warfare, MU90 is the perfect lightweight torpedo system and is the preferred choice by first rank navies.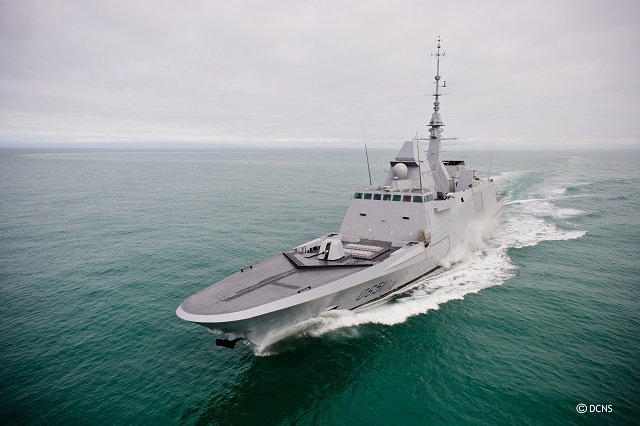 The FREMM Normandie during sea trials
Picture: DCNS
FREMM has a very high survivability thanks to her stealth superstructures, reduced signatures in all domains, countermeasures capabilities, and redundancies.

These highly automated new-generation frigates require a crew of just 108, about half as many as current-generation vessels offering similar capabilities. Crew activities are a prime focus of the FREMM design process. Recognising that crew performance depends critically on well-being, a range of design solutions have been adopted to improve living and work conditions by optimising workloads and providing space and facilities for off-duty rest and recovery. The decision to limit the ship's complement to 108 officers and crew leads directly to a significantly lower cost of ownership.