a
DIMDEX 2014 Show Daily - Asis
SeaBotix underwater remotely operated vehicles for military applications
SeaBotix, located in San Diego, CA, USA is a leading manufacturer of tethered, non-expendable underwater remotely operated vehicles used by militaries in applications including port security, ship hull inspection, EOD/MCM missions, critical infrastructure inspection, diver support, search and recovery, and others. SeaBotix specializes in one-to-two person portable, stable ROVs capable of observation and light work in diverse conditions.


SeaBotics booth at DIMDEX 2014, the International Naval and Maritime Defence Exhibition in Doha, Qatar.
For military applications, the two most often selected Little Benthic Vehicle models are the LBV300-5 and the vLBV300.

The LBV300-5 is a compact system with two horizontal thruster (forward, reverse, and turning), one lateral thruster (sideways motion), and two vertical thrusters (up and down). The LBV300-5 vehicle also includes a high resolution color video camera and LED light that tracks 180-degrees with the camera ensuring high-quality video with sufficient lighting in nearly any position.

The LBV300-5 also includes a magnetic compass, depth and temperature sensors, and auto-heading, auto-depth, and trim. An intuitive hand controller and daylight-readable monitor in the Integrated Control Console allow for simple control and viewing of the video and included sensor data. The LBV300-5 is very popular in port security applications, searching suspicious objects on the seafloor, retrieving objects off the bottom, and performing inspection of ship hulls and infrastructure for IEDs and contraband.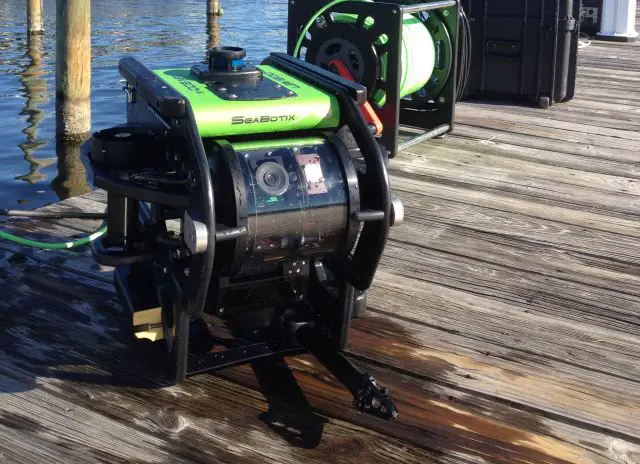 SeaBotix LBV300-5 MiniROV System
One of the defining features of the LBV300-5 is the optional, revolutionary Crawler Skid Assembly with patented SeaBotix Vortex Generator. The Vortex Generator is part of a 4-wheel skid that the LBV300-5 quickly mounts to and becomes the Little Benthic Crawler. The Vortex Generator creates an attraction force as high as 28 kgf (62 lbf) allowing the operator to approach ship hulls or any other relatively flat surface of any material, roll the LBC, and attach to the surface. In this mode, inspections can be done in currents over 5 knots by driving along the surface. Without operator input, the LBC will remain attached to the surface. This also generates the best sensor data possible, as there is no relative motion between the LBC and the surface being inspected. The LBV/LBC is the most popular compact ship hull inspection system in the US Navy.

Both models can accept a wide variety of sensors including scanning and imaging sonars for navigation and searches in poor/zero visibility, tracking systems for precise location, altimeters for height off the bottom, chemical sensors, water quality, etc. Probably the most popular optional tool is the manipulator, which can be fitted with a number of grabbing and cutting tools. Combined with the small diameter, low-drag tether with 100 kgf (220 lbf) working load, both ROVs can be used to grasp and lift heavy objects off the seafloor or deliver tooling and other military packages.


SeaBotix Little Benthic Crawler System (LBV300 with optional Wheeled Crawler Skid)
The vLBV300 system has four horizontal thrusters arranged in a vectored format, providing nearly equal thrust in all horizontal directions allowing for extreme current fighting capability. Two vertical thrusters provide generous thrust up and down, and also serve to roll the vLBV300 to attach to surfaces when the optional Tracked Crawler Skid Assembly is mounted for inspections of ship hulls and critical infrastructure. The vLBV is capable of carrying many types of sensors and mission-specific payloads, such as when performing MCM missions.