a
DIMDEX 2014 Show Daily - Kvichak RB-M
Kvichak Marine Industries showcases its RB-M patrol boat at DIMDEX 2014

Kvichak Marine Industries, Inc. of Seattle, WA USA is at DIMDEX 2014, the Naval Defence and Maritime Security exhibition currently held in Doha, showcasing among other vessels its proven
RB-M patrol boat
.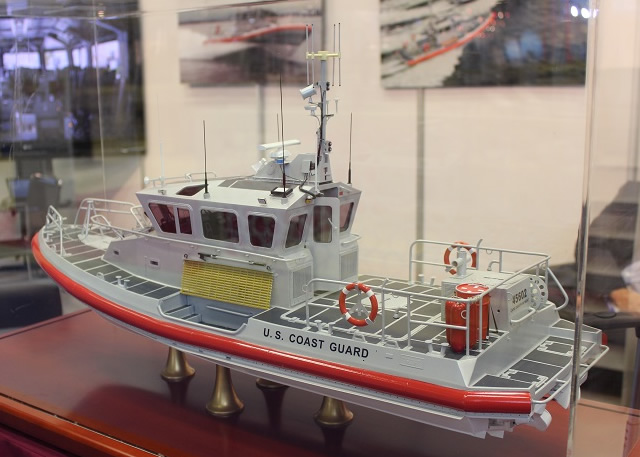 The RB-M scale model on Kvichak's booth at DIMDEX 2014
The RB-M is a 13.7m self-righting patrol boat utilized by the United States Coast Guard for a broad range of missions including homeland security and search-and-rescue. Powered by twin Detroit Diesel 60 series diesel engines coupled to Twin Disc MG5114SC marine gears with Rolls-Royce Kamewa waterjets, the RB-M is capable of speeds in excess of 40 knots. A full cabin provides crew protection from the elements and is equipped with a robust navigation system, heating and air conditioning and shock mitigating seats and a communication system capable of communicating with other federal, state and local homeland security partners.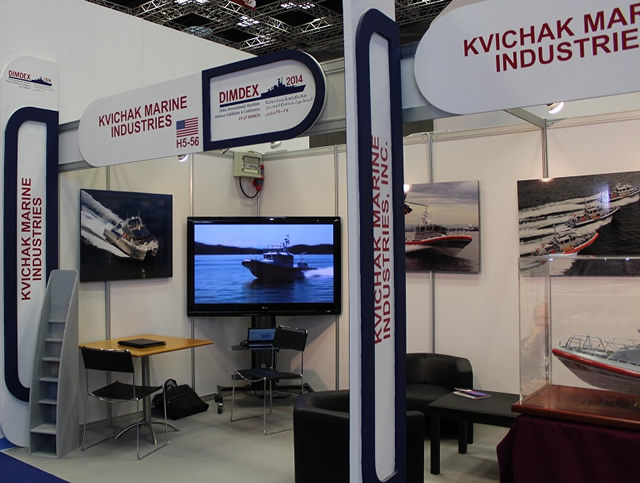 Kvichak Marine Industries booth at DIMDEX 2014
The USCG awarded the RB-M contract to Team RB-M in 2006. Team RB-M was formed by Kvichak Marine Industries, of Seattle, WA, and Marinette Marine Corporation, of Marinette, WI in 2002. Team RB-M has delivered over 149 RB-M vessels to the USCG since the contract was awarded. The current number of vessels under contract is 170. The RB-M is being built at two locations, Kvichak Marine's Kent, WA plant and Marinette Marine's ACE Marine facility in Green Bay, WI. The first vessel, 45601, was delivered to Station Little Creek, VA in 2008. All RB-M vessels are in operation at USCG stations throughout the United States.
To learn more visit the RB-M technical datasheet