a
DIMDEX 2014 Show Daily - Terma Scanter radar
International Airports in the Gulf Region Equipped with SCANTER radars
Dimdex, 27 March 2014 - Aerospace, Defense & Security equipment provider Terma A/S delivered the first Surface Movement Radar (SMR) to Abu Dhabi Airport in 2003 and since then several systems followed. Also in 2003 three SMR of the SCANTER 2001 type was delivered to Dubai Airport. In 2008 the second system was fielded in Abu Dhabi Airport.
SCANTER radars by TERMA are also available for Naval Surveillance applications
(Video: Terma)
In 2007-08 Terma was selected as provider of the Primary Radar sensor in the new Dubai World Central (AKA Al Maktoum International Airport) with two systems.

At present Terma is participating in tenders for upgrading the existing SMRs in Dubai Airport to the Next Generation Solid State SMR of the SCANTER 5502 type as well as installing our new equipment in Sharjah Airport in UAE and in Bahrain.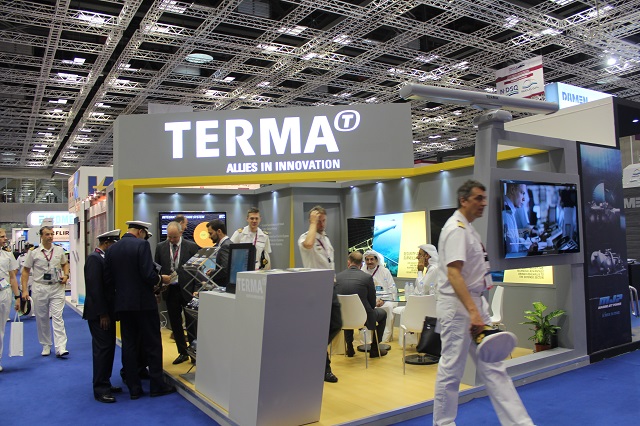 Terma stand at DIMDEX 2014
The purpose of the Surface Movement Radar is to maximize safety in airports by allowing Air Traffic Controllers to monitor, advise, and instruct aircraft, vehicles, personnel etc. moving on the ground in an airport. A radar is very suitable for this purpose as it covers a large area and operates independently of light conditions (day/night), visibility conditions e.g. fog, and possible precipitation e.g. rain and snow.

Recently, Terma was also contracted to deliver and install a SCANTER 5502 SMR system to Minsk-2 Intl. Airport in Belarus, and to supply three SCANTER 5502 SMR radar systems to Dublin Airport in Ireland as well as to Sabiha Gökcen Intl. Airport in Istanbul. These orders bring the total number of the SCANTER 5000 Solid State family sold well over 100 units.

ATM Systems
For the New Doha International Airport in Qatar Terma is supplied a Digital Automated Terminal Information Service System (D-ATIS),a General Display System (GDS), and an ATC Information Support System (ATC*ISS). For the Abu Dhabi International Airport in the UAE Terma in 2010 supplied an ATC Information Support System (ATC*ISS).