a
DIMDEX 2014 Show Daily - Nakilat Damen Shipyards Qatar (NDSQ)
NDSQ Signs Two MoUs Worth a Total of QAR 3.1bn with Qatar Armed Forces during DIMDEX 2014
Qatari shipbuilder Nakilat Damen Shipyards Qatar (NDSQ) has signed two Memoranda of Understanding (MoU) worth QAR 3.1 billion to build seven vessels for Qatar Armed Forces.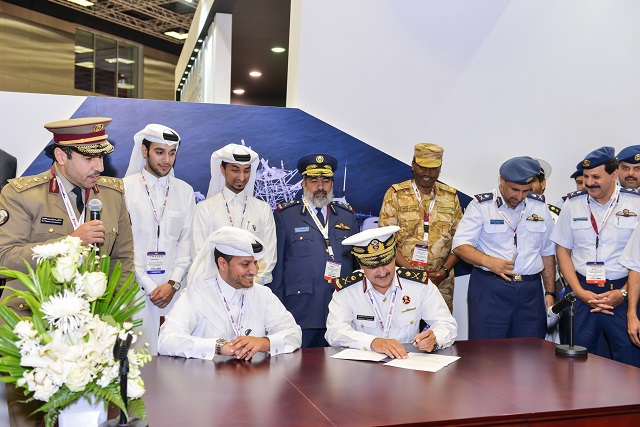 Nakilat Damen Shipyards Qatar (NDSQ) and Qatar Armed Forces have signed two MoUs for the construction of seven vessels at Qatar's premier shipyard
The MoUs were signed on Thursday 27th March during the DIMDEX event at Qatar National Convention Center (QNCC). Once all the necessary agreements are finalized, the vessels mentioned in the MoUs will be constructed in the State of Qatar by NDSQ at its shipbuilding facility at Erhama Bin Jaber Al Jalahma Shipyard in Ras Laffan.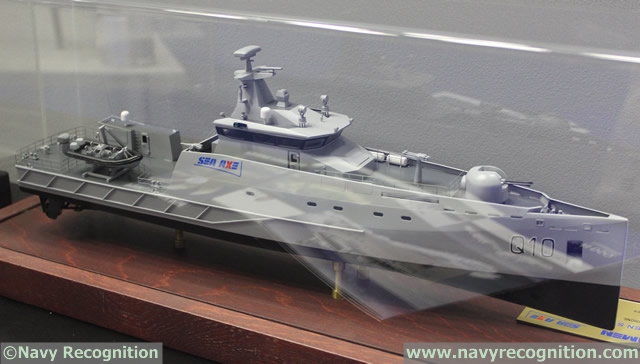 DAMEN 50m-long axe-bow high-speed patrol vessel
The MoUs signed by NDSQ and Qatar Armed Forces concern six 50m-long axe-bow high-speed patrol vessels and one 52m-long diving support vessel for the Qatar Armed Forces. All vessels are highly sophisticated state-of-the-art naval ships built based on proven designs providing unparalleled seaworthiness. The diving support vessel includes decompression capabilities. A large Integrated Logistic Support package is also mentioned in the MoUs.

Eng. Abdullah Fadhalah Al Sulaiti, Managing Director of Nakilat and Chairman of NDSQ, said: "We are delighted with these MoUs, both for our company and for our country. To be given the opportunity to build these vessels in Qatar for Qatar will be an incredible achievement and a strong contribution to the continued growth of our nation's marine industry. These MoUs are confirmation of the State of Qatar's world-class shipyard capabilities.

"We are thankful to HE Major General Hamad bin Ali al-Attiyah, Minister of State for Defence and we also thank Qatar Armed Forces for placing their trust in our company and in Qatar's marine industry. We look forward to working closely with Qatar Armed Forces and to finalizing the details of this agreement".