a
DSA 2014 Naval News - TKMS
ThyssenKrupp Marine Systems Exhibiting at DSA 2014
ThyssenKrupp Marine Systems, one of the leading European system providers for non-nuclear submarines and high-end naval vessels, participates at the 14th Defence Services Asia Exhibition and Conference from April 14 to 17, 2014, in Kuala Lumpur, Malaysia. At the ThyssenKrupp Marine Systems booth no. 1003C in hall 1, PWTC, visitors can experience an interactive display of a wide range of submarines and naval surface ships including: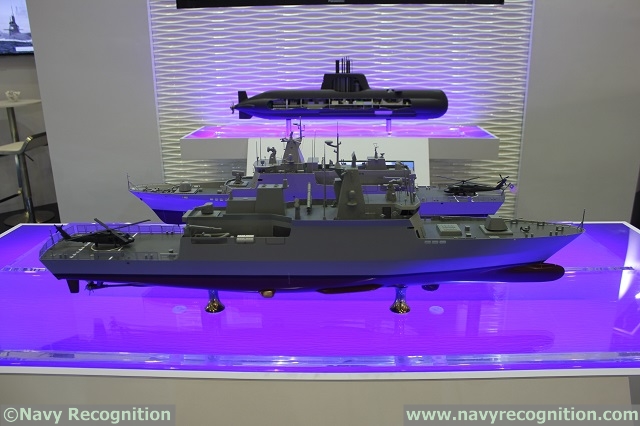 MEKO 100 patrol corvette and Class 214 submarine models on TKMS booth at DSA 2014
» Blohm+Voss MEKO® 100 Patrol Corvette
» Blohm+Voss MEKO® 100 RMN Patrol Corvette
» HDW Class 214 Submarine
» Kockums Visby Class Corvette

ThyssenKrupp Marine Systems is present in Malaysia with an office in Kuala Lumpur, clearly demonstrating its continuing commitment in the region. The Naval System House can already look back on long-standing business relations with Malaysia. This includes the construction of the shipyard in Lumut, which was completed in 1985, along with the construction of several naval surface vessels for the Royal Malaysian Navy: the corvettes KD Kasturi and KD Lekir, which were handed over in 1985, and six further MEKO® 100 patrol corvettes, which were completed in partnership with the local company PSC in Malaysia and put into service successively until December 2010.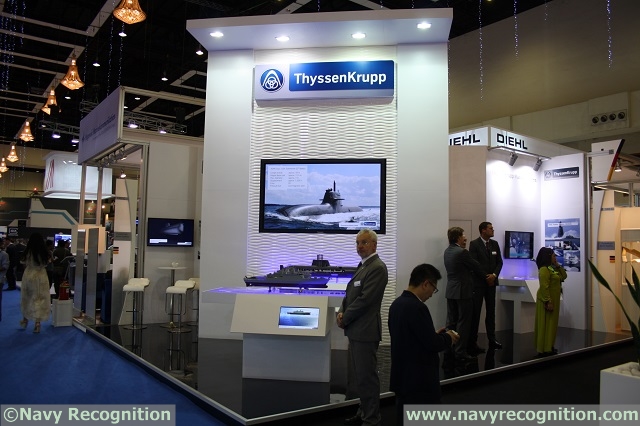 TKMS booth at DSA 2014
Long shipbuilding tradition combined with best-in-class technologies
ThyssenKrupp Marine Systems has a long shipbuilding tradition spanning hundreds of years, while at the same time securing the technologies and skills required for the future. As a leading system supplier for non-nuclear submarines and state-of-the-art naval surface vessels, ThyssenKrupp Marine Systems has gained massive experience supporting more than 30 countries and their navies. In the area of first-class naval education and training as well as service support, the company has proven its expertise for more than four decades.

ThyssenKrupp Marine Systems comprises the four operating units Submarines, Surface Vessels, Services and ThyssenKrupp Marine Systems AB. The technological and financial capacity of ThyssenKrupp Marine Systems provides navies with the assurance that its submarines, surface vessels and maritime systems will continue to benefit from long-term development and support. The company with premises in Germany (Kiel, Hamburg, Emden) and Sweden (Malmö, Karlskrona, Muskö) employs around 3,800 people and is part of the Industrial Solutions business area of the ThyssenKrupp Group.