a
Naval Industry News - Saab, PT Lundin Bonefish USV
SAAB and P.T Lundin unveil the BONEFISH USV concept at Indo Defence 2014
Saab and P.T Lundin unveiled the BONEFISH at Indo Defence Expo 2014– a concept demonstration Unmanned Surface Vessel (USV) to gauge market interest. The platform combines a trimaran hull with remote and autonomous control systems. It is integrated with radar, acoustic and electro-optical sensors and multiple communication systems.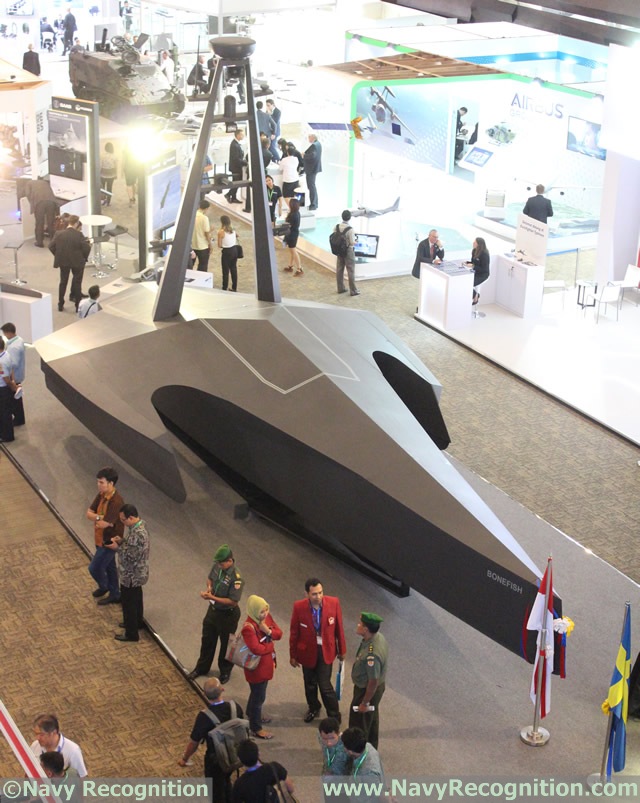 The BONEFISH on the joint SAAB/P.T Lundin stand at Indo Defence 2014

This USV can provide support for a number of operational capabilities, including anti-piracy, surveillance, anti-submarine warfare, mine countermeasures, search and rescue, electronic warfare, target training and environmental assessment.

The BONEFISH concept is well-suited for Indonesia's vast archipelago with about 17,000 islands stretching over nearly two million square kilometres. With a coastline of 54,716 kilometres to protect and sitting at Southeast Asia's maritime chokepoints, such as the Strait of Malacca, Indonesia requires a very large number of surface patrol vessels. The USVs provide an opportunity for effective unmanned surveillance and patrol.
Video: BONEFISH concept demonstration Unmanned Surface Vessel (USV)
The BONEFISH is a result of collaboration between Saab and PT Lundin where Saab brings technology and know-how to provide the full mission capability and PT Lundin provides the essential platform skills.

The BONEFISH programme is a USV technology demonstrator intended to explore the potential for this class of system. Its future development will depend on an assessment of the utility of the concept as well as customer demand for the capability.

The BONEFISH is built on a trimaran hull design similar to the Stealth FAC. THE BONEFISH has a mission bay that can carry a very wide variety of equipment.

"The BONEFISH USV is demonstration of Saab's technology and Indonesian industry's ability to develop solutions that are relevant to the country's defence requirements while having potential in the global marketplace," says Dan Enstedt, President & CEO, Saab Asia Pacific.

The platform combines a trimaran hull with remote and autonomous control systems