a
Naval Industry News - Airbus Helicopter
Indonesia acquires 11 Airbus Helicopters AS565 MBe Panther to enhance its ASW capabilities
Airbus Helicopters announced during Indodefence 2014 that the mission capabilities and cost effectiveness of its AS565 MBe Panther has been further validated by Indonesia's order for 11 rotorcraft to be used in naval anti-submarine warfare (ASW) missions.

Scheduled for deliveries within three years, the AS565 MBe helicopters will be supplied by Airbus Helicopters to PT Dirgantara Indonesia. Through the strategic industrial agreement between these two partners, PT Dirgantara Indonesia will be outfitting these rotorcraft in-country with mission equipment before delivery to the Indonesian Navy. The mission equipment include the Helicopter Long-Range Active Sonar (HELRAS) dipping sonar and torpedo launching system – providing a truly effective mission system for operations from land bases and ships.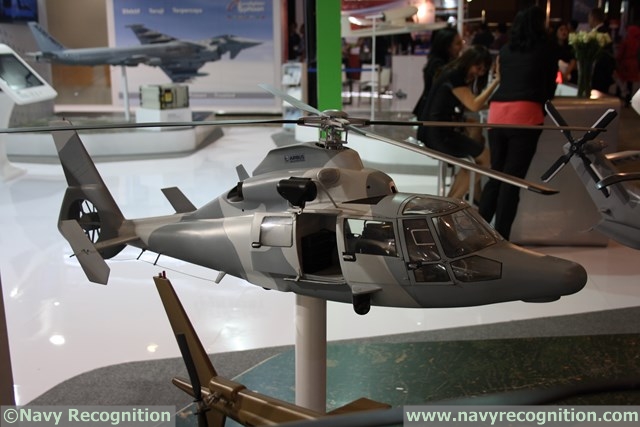 AS565 MBe Panther maritime helicopter model on the Airbus Helicopter stand at Indo Defence 2014

"The Panther now becomes one of the world's most capable light/medium anti-submarine warfare platforms, with an advanced ASW suite and the capability to operate from corvettes or small frigates," said Philippe Monteux, Head of Region South East Asia & Pacific at Airbus Helicopters. "This fully-capable, modern solution meets the naval requirements of Indonesia and other countries in the region, benefitting from our partnership with PT Dirgantara Indonesia and the industry's best system suppliers."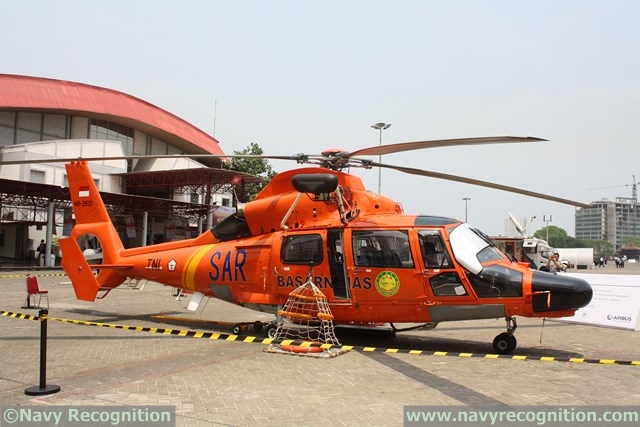 An AS356N Dauphin in SAR (Search and Rescue) configuration was on display during Indodefence 2014. It belongs to the Indonesian Coast Guards.
This order will add to the Indonesian Armed Forces' fleet of Airbus Helicopters rotorcraft serving the country's defense on land, at sea and in the air. The fleet includes the light EC120 Colibris for training; the Fennecs and BO-105 for light attack missions; the Panthers for anti-submarine warfare missions; and the Pumas and Super Pumas operated by the Air Force who will soon also receive the EC725 for combat search and rescue missions.

The agreements were secured by PT Dirgantara Indonesia as a result of its long-standing cooperation and strategic alliance with Airbus Helicopters. The President of PT Dirgantara Indonesia, Budi Santoso explained, "This latest contract demonstrates the strength and efficiency of our commercial and industrial partnership with Airbus Helicopters. Together, we are able to identify and deliver the most modern and cost-effective solutions for the Indonesian Government and at the same time associate the significant involvement of the Indonesian industry."