a
NAVDEX 2015 - Rheinmetall
Rheinmetall Unveils the new Off-Board Corner Reflector upgrade for MASS At IDEX 2015
At IDEX 2015 exhibition in Abu Dhabi, German company Rheinmetall unveiled a new upgrade for its MASS decoy system: The off-board corner reflector (OCR) with advanced capabilities against modern anti-ship missiles. Two OCR launcher tubes can be fitted on-top of a MASS unit. They deploy radar decoys that simulate the vessel's radar signature. The decoys are manufactured by Airborne Systems.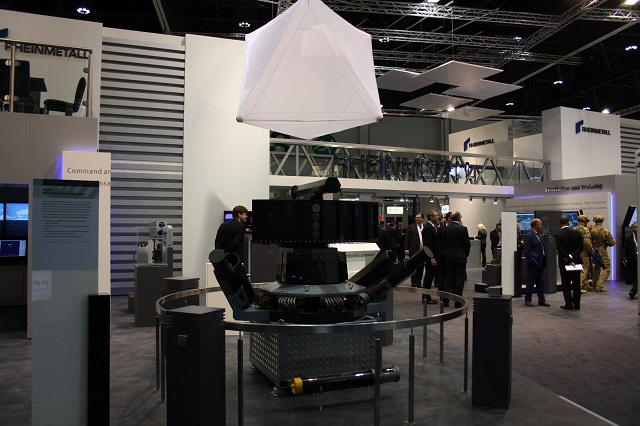 Rheinmetall MASS Naval Decoy System on display at IDEX 2015 with the off-board corner reflector launcher on top and the inflated decoy above it.
This new MASS option can replace chaffs and is designed to defeat even the most up-to-date developments in anti-ship RF missile seekers, including those fitted with chaff discerning algorithms (a Rheinmetall represenntative mentionned the C705 from China as an example).

According to Rheinmetall, MASS is the world's number one naval countermeasure system, reliably protecting surface combatants from advanced anti-ship missiles as well as asymmetric threats in littoral environments. The latest version of MASS is on display at IDEX 2015. Encompassing the full spectrum of naval air and anti-submarine warfare threats, MASS now provides new capabilities such as a millimetre wave (MMW) decoy capability, the MMW sensor SME100+ for MMW anti-ship missile detection as well as the off-board corner reflector and acoustic decoy CANTO for anti-torpedo defence. These capabilities have been developed in cooperation with different defence contractors.

The UAE Navy selected thhe MASS naval countermeasure system for its Baynunah, Falaj 2 and Abu Dhabi classes of vessels.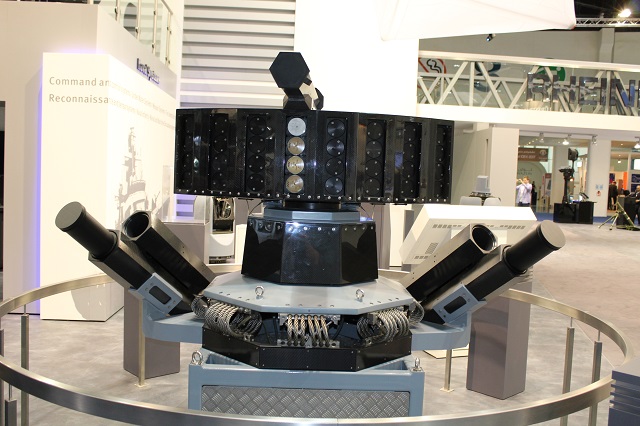 Rheinmetall MASS Naval Decoy System on display at IDEX 2015