a
NAVDEX 2015 - Oto Melara
Oto Melara Unveils the new Forty Light naval gun system At IDEX 2015
At IDEX 2015 exhibition in Abu Dhabi, Italian company Oto Melara unveiled a new 40mm naval gun system weighting just below two tons. Thanks to its extremely reduced mass, small dimension, easy installation (no deck penetration required), modern and completely digital technology, Oto Melara believes the Forty Light will play a leading role as a 40mm naval system.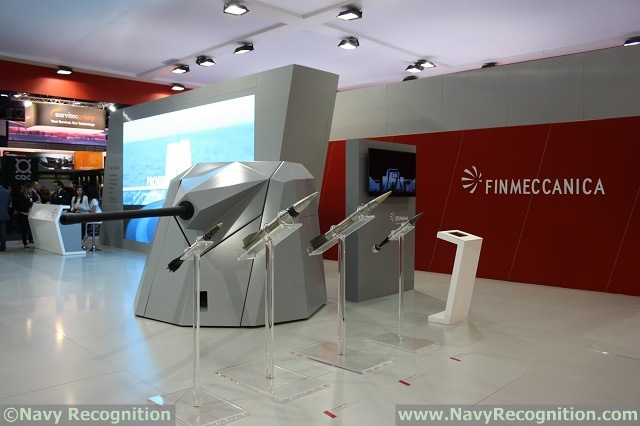 Oto Melara Forty Light unveiled at IDEX 2015
The full integration between high rate of fire and modern programmable ammunition enables the system to engage efficiently and effectively a large number of targets. In particular, the high operative flexibility allows to cover the most differentiated roles, typical of modern naval scenarios: generic surface threats, fast crafts, antiships helicopters and fast attacking aircraft as well as various missile typologies.

The gun mount operates with a high fire rate 40mm cannon fed through a 72 ready-to-fire rounds magazine capable of managing a dual feeding ammunition system. The system can be set up according to three different configurations based on customer requirements.

In remote control mode the system is completely slaved to the shipboard Command Management System, and the short reaction time in conjunction with the high accuracy guarantee excellent performances. The last generation digital architecture satisfies all the requirements coming from modern transmission technologies (serial link/LAN).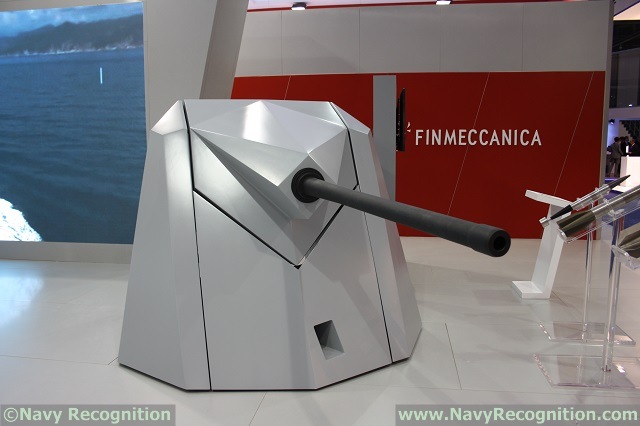 Oto Melara Forty Light unveiled at IDEX 2015
If a local emergency control is required, in addition to the remote control mode it is possible to adopt the coaxial configuration that foresees a high performance daylight camera installed on the gun mount. This camera allows the system control in an emergency autonomous mode if the CMS is not available.

If a completely autonomous mode is required, it is possible to adopt a Stand Alone with Micro Fire Control System (MFCS) configuration based on an independent line of aim Sensor Suite equipped with a daylight sensor, a cooled IR sensor and a LRF (Laser Range Finder). The system integrates a predictive ballistic calculation based on muzzle velocity radar installed on the gun mount. An auto tracking module, capable of identifying and aiming an acquired target, can be installed as optional. The fully CMS slaved mode is still available and selectable.

In conclusion, OTO Melara FORTY LIGHT system provides all the expected 40mm ammunition performance with the advantage of a compact, versatile and flexible structure typical of a smaller caliber system. Moreover, the modern design fulfils the increasing need of easy maintainability and management.