a
NAVDEX 2015 - Raytheon Griffin Missile
Freshly Installed Griffin Missile System Showcased on-board USS Monsoon at NAVDEX 2015
While visiting the Cyclone class Coastal Patrol Boat USS Monsoon at NAVDEX 2015, Navy Recognition noticed the vessel was fitted with a new weapon system: The Raytheon made Griffin Missile System (MK-60 Patrol Coastal Griffin Missile System as called in the U.S. Navy). Navy Recognition's chief editor met with the Captain to learn more about the new capabilties this freshly installed weapon system brings to the Cyclone class PC.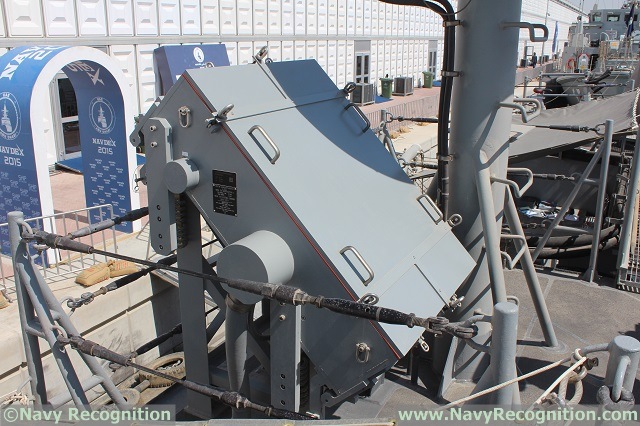 One of two Griffin launchers on board USS Monsoon at NAVDEX 2015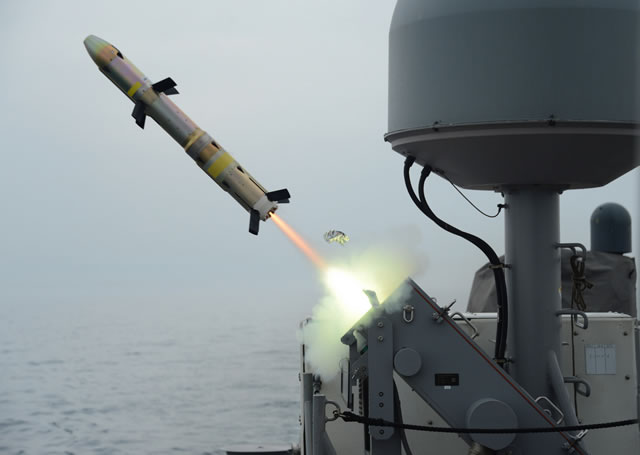 ARABIAN GULF (March 20, 2014) - The coastal patrol ship USS Typhoon (PC-5) launches an MK-60 surface-to-surface missile during a Griffin missile exercise. The Griffin missile exercise is a surface-to-surface live-fire missile exercise conducted to train for small boat threats in the U.S. 5th Fleet Area of responsibility. (U.S. Navy photo by Mass Communication Specialist 1st Class Doug Harvey/Released)
As part of a rapid deployement capability contract, Griffin missile is being integrated on board a number of Cyclone class vessels deployed in Bahrain. The entire system consists in two government-designed Mk 208 launchers (with four Raytheon's Griffin B Block II missiles each, a FLIR BRITE Star II sensor/laser designator and a new management system.

Adapted from aviation and special operations platforms, the 43-inch-long, 33-pound missile has proven itself to be lethal against small boat threats.

All ten Bahrain-based PCs will be outfitted with GMS by 2016. PCs are in Bahrain based on a strong demand signal for increased Maritime Security Operations in this region. The cost effective ships are ideal platforms for conducting regional engagements with our regional partners.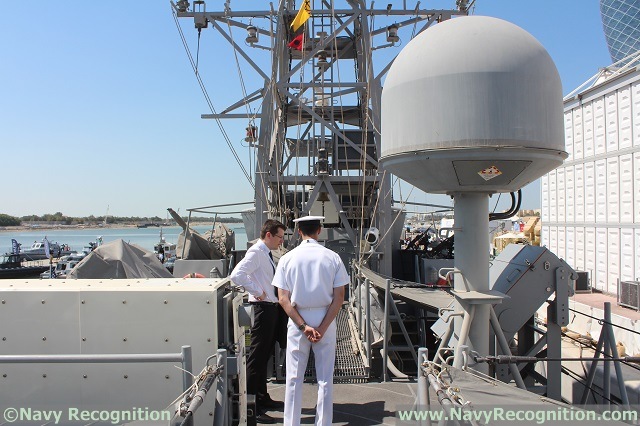 The USS Monsoon Captain briefing Navy Recognition's Chief Editor about the Griffin Missile System during NAVDEX 2015
The Captain of USS Monsoon explained to us that the system was installed back in the United States prior to bringing the vessel over to the Gulf region. The BRITE Star II camera is used for target detection, aquisition, to calculate the range and for target designation.

The Captain said the Griffin Missile System is short range but brings a major new capability in terms of self defense against fast attack craft.

In March 2014, a flotilla of coastal patrol ships launched four Griffin missiles at target sleds to test the operational capability of the system. Each missile fired resulted in a successful test of the system and destruction of the target.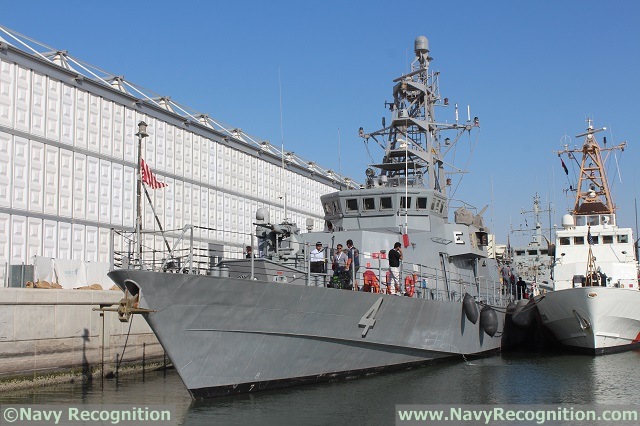 Cyclone class Coastal Patrol Boat USS Monsoon at NAVDEX 2015