a
NAVDEX 2015 - Northrop Grumman ALMDS
At NAVDEX 2015 Northrop Grumman Showcased its Airborne Laser Mine Detection Systems ALMDS
At NAVDEX 2015, Northrop Grumman Corporation was showcasing its AN/AES-1 Airborne Laser Mine Detection System (ALMDS). Navy Recognition learned that the US defense company is actively marketing its innovating mine detection system to counties in the Gulf region because of emmerging needs in mine warfare capabilities.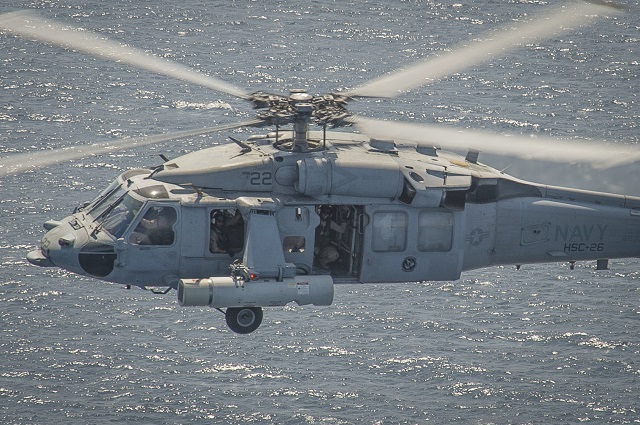 NAVAL SUPPORT ACTIVITY BAHRAIN (Aug. 4, 2014) An MH-60S Sea Hawk helicopter from the Laser Hawks of Helicopter Sea Combat Squadron (HSC) 26, Detachment 2, equipped with the Airborne Laser Mine Detection System (ALMDS) conducts flight operations. Operated from the MH-60S helicopter, ALMDS provides rapid wide-area reconnaissance and assessment of mine threats in littoral zones, confined straits, and choke points. The Laser Hawks began the operational testing and demonstration of ALMDS in the U.S. 5th Fleet area of responsibility on the system's maiden deployment. (U.S. Navy photo by Mass Communication Specialist 2nd Class Sean Furey/Released)
Northrop Grumman has delivered 12 ALMDS pods to the U.S. Navy through four low rate initial production lots, and four pods to the Japan Maritime Self Defense Force which are currently undergoing integration and test aboard the EH-101 helicopter.

In U.S. Navy service, the ALMDS is mounted on an MH-60S helicopter. Flying over sea lanes, it finds and geolocates mine-like objects with its pulsed laser light and streak tube receivers by imaging, in 3-D, day or night, the near-surface of the ocean.

The ALMDS uses pulsed laser light and streak tube receivers housed in an external equipment pod to image the entire near-surface volume potentially containing mines. ALMDS is capable of day or night operations without stopping to stream out or recover equipment and without towing any equipment in the water. With unteathered operations, it can attain high area search rates. This design uses the forward motion of the aircraft to generate image data negating the requirement for complex scanning mechanisms and ensuring high system reliability. ALMDS also provides accurate target geo-location to support follow on neutralization of the detected mines.

The ALMDS pod is mechanically attached to the MH-60S with a standard Bomb Rack Unit 14 (BRU-14) mount and electrically via a primary and auxiliary umbilical cable to the operator console. Data is stored on a mass memory unit for post mission analysis. The operator's consol is common to all MH-60S AMCM systems.

A Northrop Grumman representative at NAVDEX explained to Navy Recognition that the ALMDS may be fitted other platform than the MH-60 or EH-101, and confirmed that it should not be a problem to instal it on NH90 helicopters.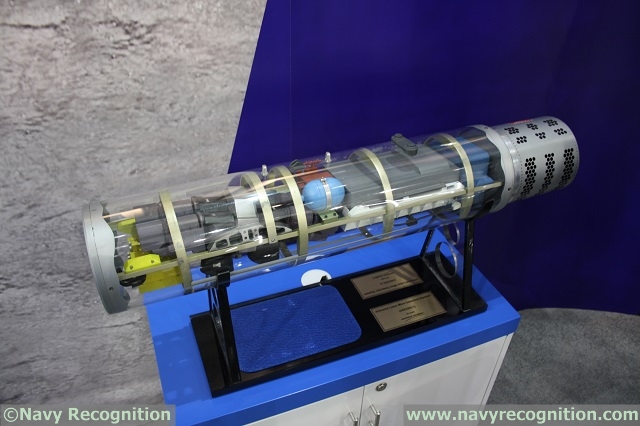 ALMDS model showcased on the Northrop Grumman stand during at NAVDEX 2015