a
Sea-Air-Space 2015 - Lockheed Martin LRASM
LRASM Anti-Ship Missile Update with Lockheed Martin at Sea-Air-Space 2015
By Xavier Vavasseur
Navy Recognition met with Hady Mourad, Lockheed Martin's Tactical Missiles Advanced Programs Director during the Navy League's 2015 Sea-Air-Space Exposition to learn the latest developments on the Long Range Anti-Ship Missile (LRASM). We learned some new information and even received some never-seen-before pictures.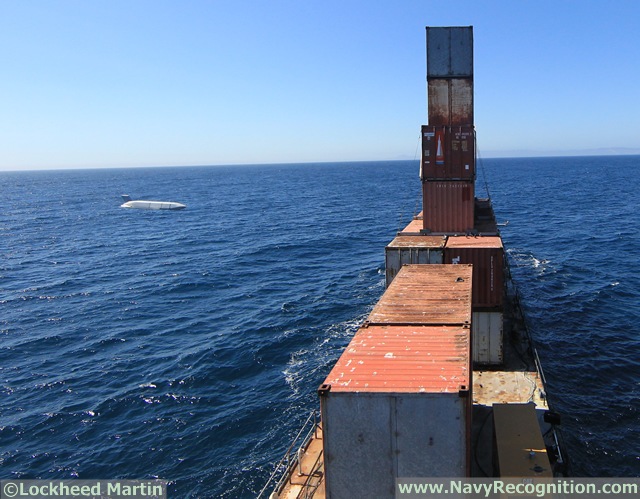 Newly released picture: A LRASM missile is seen moments before impacting a target at sea during a November 2013 flight test. It was the second LRASM test, the missile was launched from a B-1B.

Navy Recognition (NR): What capabilities will LRASM bring over Harpoon?
Hady Mourad, Lockheed Martin (LM): The Long-Range Anti-Ship Missile (LRASM) brings a multitude of improvements over existing capabilities, filling current gaps in the ability of our warfighters to defend and engage threats in anti-access and area-denied environments. As adversary threats increase in capabilities and range, the existing inventory of weapons quickly becomes obsolete. LRASM answers the urgent operational need against these next generation threats. LRASM brings unmatched survivability in the areas of stealth, range, precision navigation and accuracy.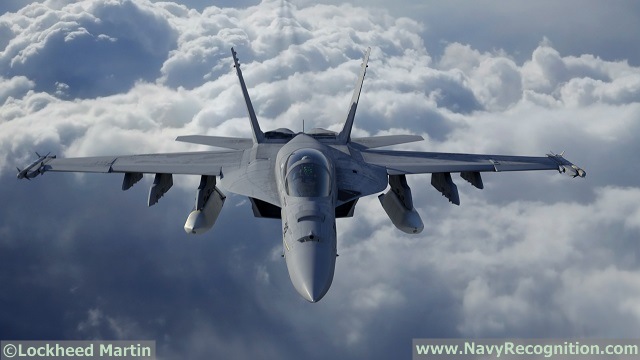 CGI: An F/A-18E Super Hornet fitted with two LRASM missiles.

NR: What is the current status of the program (following the 3rd successful flight test)?
LM: Currently, Lockheed Martin has an accelerated acquisition contract for the maturation and delivery of production hardware and software to go into next year's U.S. Navy integration and testing program. Subsystem testing and maturation are key in reducing risk and bringing this much-needed weapon offering to an early operational capability in 2018 and 2019 on the U.S. Air Force B-1B and U.S. Navy F/A-18 E/F respectively.
The expected U.S. Navy contract for integration and testing will begin the aircraft integration efforts on the F/A-18, as well as the operational flight testing that is part of fielding any weapons program.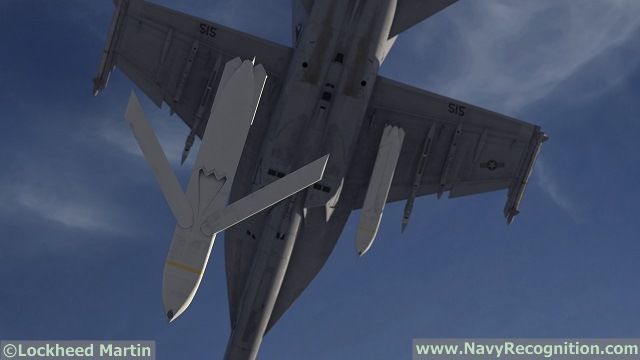 CGI: A LRASM is launched from an F/A-18E Super Hornet

NR: So far all (air to surface) tests involved a USAF B-1B bomber aircraft. Is there any test planned with a U.S. Navy Super Hornet jet? In addition to F-18 and F-35, is the P-8 another Navy platform being considered for LRASM integration?
LM: With LRASM being based on the successful JASSM-ER missile, which is fully integrated and has already achieved initial operational capability status on the B-1B, it was logical to test LRASM from the B-1B aircraft first. Integration and testing on the F/A-18 is scheduled to begin in 2016, after which flight testing will commence. Integration onto the F-35 and other Navy aircraft are currently not contracted, but Lockheed Martin stands ready to execute on any other platforms the DoD desires.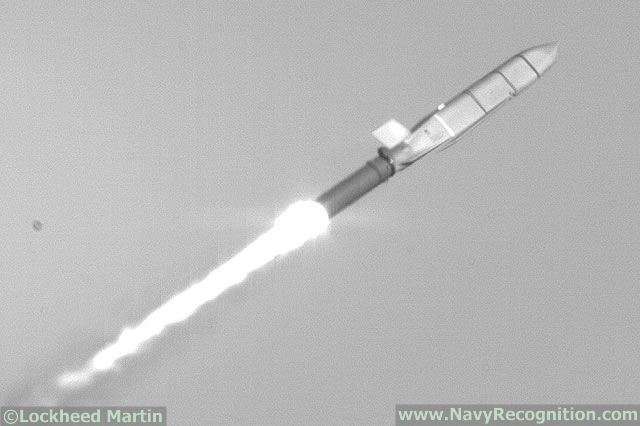 Newly released picture: September 2014 "CTV-1" flight test demonstrating integration with Tactical Tomahawk Weapons Control System (TTWCS) and Mk41 VLS. This test also demonstrated vertical launch egress, boost phase, booster separation and transition to cruise.

NR: Are there any further tests of the surface launched variant (from Mk41) planned?
LM: As part of Lockheed Martin's investment into its Offensive Anti-Surface Warfare (OASuW) weapon offering, surface-launched testing will continue in 2015-2016. To date, we have successfully launched two Vertical Launch System (VLS) surface-launch LRASMs from a Desert Ship at White Sands Missile Range, New Mexico. In the most recent testing in Sept. 2014, LRASM successfully egressed from the Mk-41 VLS container, separated from the MK 114 ASROCK booster, achieved stable flight and flew a preprogrammed flight path downrange.
Lockheed Martin continues subsystem testing to mature technology in anticipation of an upcoming OASuW Increment II competition.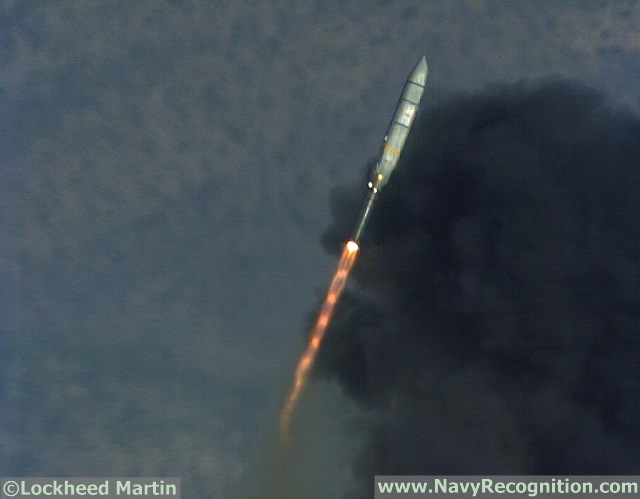 Newly released picture: Successful boosted test vehicle flight demonstrating LRASM missile egress, flight with existing Mk-114 ASROCK booster and Mk41 VLS canister design.

NR: Is Lockheed Martin working on a submarine launched variant of LRASM? Will it be tube launched or launched vertically (Virginia class payload module)?
LM: Right now, Lockheed Martin is working risk reduction efforts associated with integrating a missile into submarine launchers. There are mechanical modifications to the system that must be made to ensure the missile can interface with the submarine launcher and booster.

NR: LRASM has been selected to answer OASuW Increment 1 requirements. How will this be an advantage for OASuW Increment 2 and how will Lockheed Martin leverage on this advantage?
LM: Currently, LRASM fulfills the Navy's requirement for an offensive weapon system that can be launched from the air in a maritime environment - called OASuW Increment I. The primary goal of the weapon is to counter the growing maritime threats in anti-access/area-denial environments.
When the analysis of alternatives to study options for OASuW Increment II and Next Generation Strike Capability, beginning in 2016, is complete and requirements are defined, Lockheed Martin will evaluate its technical solutions against the criteria and determine what it will put forward in competition. Lockheed Martin has decades of experience in cruise missile development and production, and can deliver the systems needed by warfighters to maintain their offensive superiority.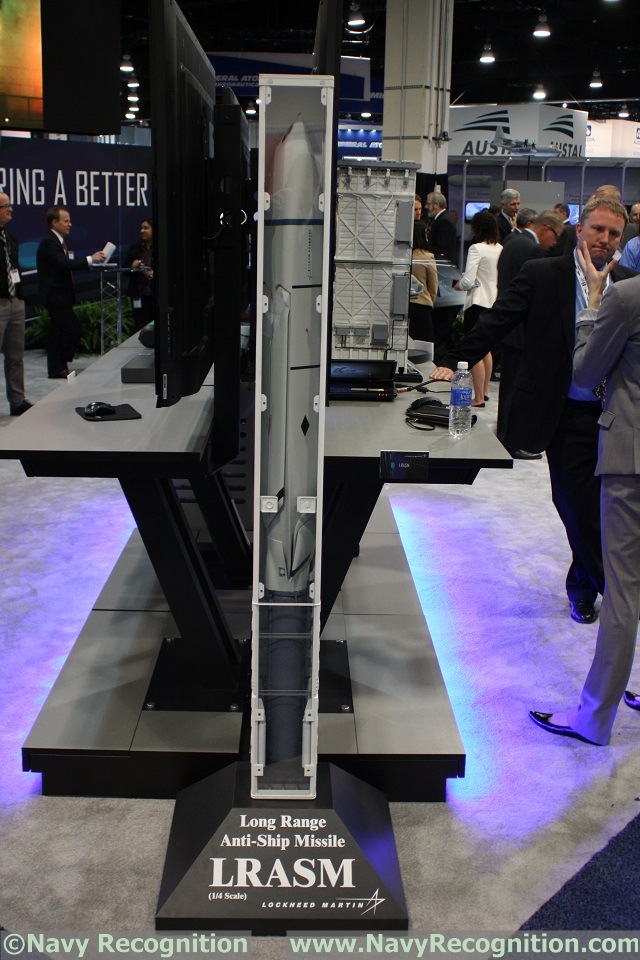 LRASM & Mk41 VLS scale model on display at Sea Air Space 2015

NR: Has Lockheed Martin received interest from foreign allied navies (namely Royal Navy and Royal Australian Navy) for LRASM? If approved via FMS / US Government, is Lockheed Martin confident LRASM could be easily integrated on a foreign class of vessel (even one with a non-us combat management system).
LM:
Currently, Lockheed Martin is addressing our U.S. warfighters' capability gap by providing them with a weapon system that will allow for surface dominance in any region. International opportunities are depended on exportability, and the U.S. State Department can answer that more fully. Lockheed Martin has proven to be a successful system integrator on domestic and international platforms of all types, and we are confident that should the U.S. Government elect to make LRASM available for foreign military sales, we can integrate and deliver our weapon system to our international allies.
To learn more: Link to LRASM Technical Datasheet