a
UDT 2015 Online Show Daily - DCNS Scorpene Evolution
DCNS Unveils an Evolution of Its Scorpene 2000 SSK Submarine at UDT 2015
At UDT 2015 the Undersea Defence Technology exhibition and conference currently taking place in Rotterdam, DCNS unveiled an evolution of its Scorpene 2000 diesel-electric submarines (SSK).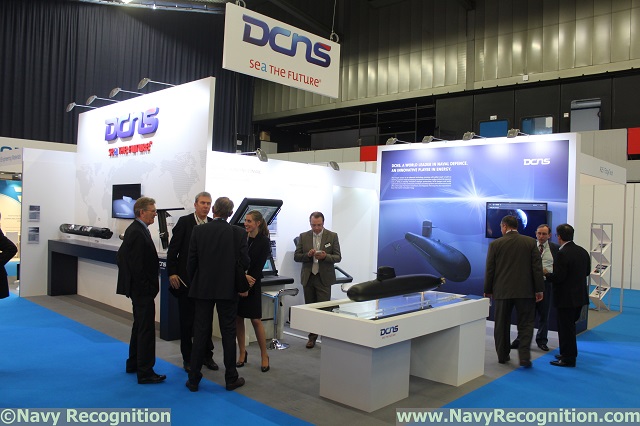 DCNS stand at UDT 2015 with the Scorpene 2000 evolution model
Xavier Mesnet, Submarine Marketing Director, told Navy Recognition during UDT 2015 that this evolution of the Scorpene 2000 design shows how DCNS integrates the latest technologies unveiled at Euronaval last year (such as the second-generation fuel-cell AIP, UUV deployment and recovery, Vipere multifunction buoy...) as well as industrial challenges and customer requirements.

The new Scorpene 2000 evolution model unveiled for the first time at UDT 2015 shows a redesigned sail and stern. According to Marie Nicod, submarine naval architect at DCNS, the only part left unchanged on the model shown at UDT 2015 is the bow. Up to 8 masts may now fit in the new sail because of its larger design. The stern is fitted with an X-rudder for better maneuvrability as well as pre-swirl stators: They reduce the rotational losses incurred by the propeller and further increase the performance of the screw.

DCNS can adapt the Scorpene 2000 series to specific customer requirements including its size and shape. Finally we were told that this evolution of the Scorpene 2000 may deploy the full spectrum of weapons: Torpedoes, Anti-ship missiles, Surface to air Missile, Cruise missiles plus special forces and UUVs.