a
UDT 2015 Online Show Daily - Microflown Maritime
Microflown Maritime Showcased its Acoustic Situational Awarness Solutions at UDT 2015
At the UDT 2015 Undersea Defence Technology exhibition and conference, Dutch company Microflown Maritime showcased its situational awareness solutions including its new Hydroflown.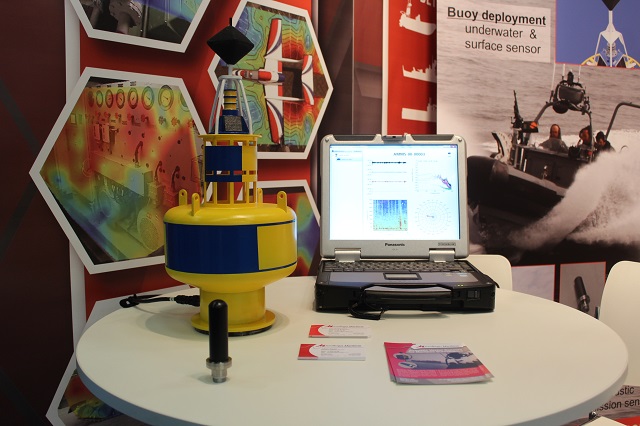 Model of a buoy fitted with an AVS at its top and Hydroflown sensor on the foreground. Microflown was also demonstrating how the technology works thanks to the laptop.
Microflown develops highly accurate and reliable sound source localization systems for fixed and mobile installations, for protection of airborne, surface and underwater assets. The company focus to provide complete 3D acoustic situational awareness within the maritime domain.

Its core Acoustic Vector Sensor (AVS) technology is aimed at detecting, localizing, tracking and classifying audible threats such as small arms fire, rockets, artillery and mortars as well as tonal sound sources of engine driven platforms like helicopters, planes, UAVs, ships...

As a dedicated gunshot detection and localization system for maritime use, the boat mounted sensor is based on the proprietary worldwide unique and extremely small AVS technology, measuring directional acoustic particle velocity. This system has been tested by the Royal Netherlands Navy on board RHIBs (as well as two other international customers).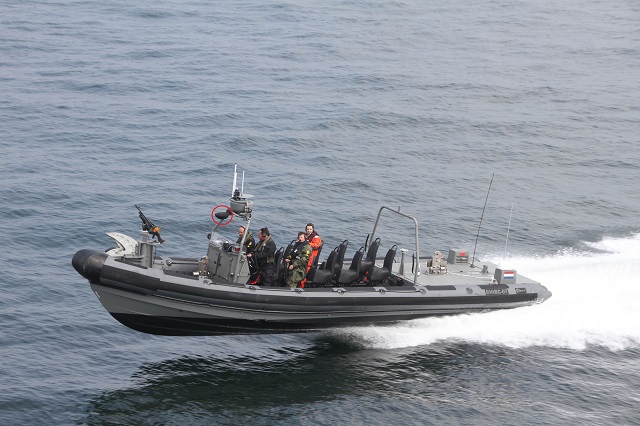 Royal Netherlands Navy FRISC RHIB fitted with Microflown Maritime boat mounted sensor as a dedicated gunshot detection and localization system for maritime use. Picture: Microflown Maritime
In recent years, developments have taken place to adapt the particle velocity sensor for use underwater. This type of sensor is called Hydroflown, packaged in a small oil filled container for use underwater, containing three orthogonally placed Hydroflowns which, when combined with a conventional hydrophone, is a true AVS. The Hydroflown may be fitted on floating buoys or anchored on the sea bed.