a
Balt Military Expo 2016 Online Show Daily - DAMEN 10514PL
Balt Military Expo 2016: DAMEN Unveils SIGMA 10514PL Designs Based on SIGMA 10514 PKR
At Balt Military Expo 2016 held in Gdansk, Poland, from 20 to 22 June 2016, Dutch shipbuilder DAMEN unveiled updated designs of its SIGMA family. A company representative explained to Navy Recognition that the updated designs feature more sleek, modern and stealthy lines. It is based on the same hull as the SIGMA 10514 PKR already selected by the Indonesian Navy (TNI AL).
The new SIMGA 10514PL unveiled by DAMEN during Balt Military Expo 2016 in Gdansk, Poland.
Coastal Defense Ship on the left and Patrol Ship on the right.
The two designs unveiled at Balt Military Expo, are representative of what DAMEN is offering to the Polish navy for the Miecznik (Damen designation: SIMGA 10514PL Coastal Defense Ship) and the Czapla offshore patrol vessels (Damen designation: SIGMA 10514PL Patrol Ship).

Based on the 3D rendering unveiled at Balt Military Expo, both vessels are fitted with an Oto Melara 76mm main gun and NS 100 radar by Thales. The Smart-S Mk2 by Thales or the Sea Giraffe AMB by Saab may be fitted as well depending on Polish Navy requirement (as is the case for all the other equipment). The Coastal Defense Ship features 12 VLS cells for VL Mica by MBDA and 8x Saab RBS15 anti-ship missiles (Kongsberg's NSM may be fitted as well). The Patrol Boat variant features a RAM mk49 launcher or can be fitted with Thales LMM as an alternative.

Both variants feature DAMEN's Multi Mission Space providing more mission modularity to the ships. The vessels are then able to fulfil dedicated ASW, Mine Laying, Special Forces Support or Mine Counter Measures missions. On portside, a sheltered space for an additional 11m RHIB is provided.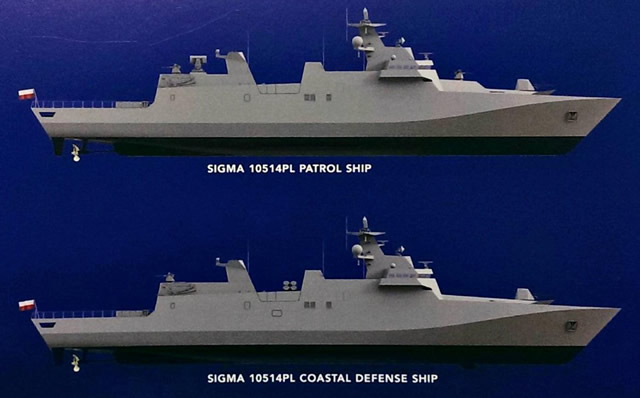 SIMGA 10514PL Coastal Defense Ship (bottom) and Patrol Ship on the right (top)
The proposed SIGMA 10514PL is a modern surface combatant based on proven hull and systems (the PKR selected by Indonesia). According to DAMEN, one platform will fit for both the coastal defence ship and the patrol ship which would have positive impacts in many areas such as building process, price, training, maintenance, life cycle costs and operational flexibility.

Primarily, Indonesian Navy's PKR vessels will be operated for Anti-Air Warfare, Anti-Surface Warfare, and Anti-submarine Warfare. However, they are also compatible with Maritime Security, Search and Rescue, Patrol, and Humanitarian Support tasks.

The SIGMA 10514 PKR has a proven design and is uniquely built using a modular approach. SIGMA stands for Ship Integrated Geometrical Modularity Approach. In essence, the PKRs are divided into 6 modules of which 4 were built in PT PAL's shipyards while the other two modules were built and fully tested at DSNS in the Netherlands. The modular building enables greater flexibility, is more cost effective and allows for building in various locations worldwide. Essentially, it provides a large portion of technological transfer. When the 6 modules were complete, PT PAL had the responsibility of integrating them into one sole vessel.

Technically, the PKR has a length of 105.11 metres (compared to 108 meters for 10514PL), a beam of 14.2 metres and a displacement of 2,365 tons. The vessel features a fully air-conditioned accommodation for up to 122 persons. The helicopter deck is suitable to host a medium sized helicopter hanger with a weight of max 10 tons. The vessel is also equipped with two rigid hull inflatable boats (RHIBs) for rescue and patrol operations. The frigate has a speed of 28 knots, and can sail up to 5,000nm at 14 knots. The endurance is at least 20 days at sea. The first unit was launched in January this year.

DAMEN stand during Balt Military Expo 2016 in Gdansk, Poland.