a
Sea Air Space 2016 Online Show Daily - BAE Systems
SAS 2016: BAE Systems Showcasing Type 26 Main Gun Loading System for the 1st Time

At the Navy League's Sea-Air-Space 2016 exposition currently held near Washington D.C., BAE Systems is showcasing for the first time a scale model representative of the new fully automated 5 Inch Mark 45 main gun loading system to be fitted on the Royal Navy's Type 26 Frigates.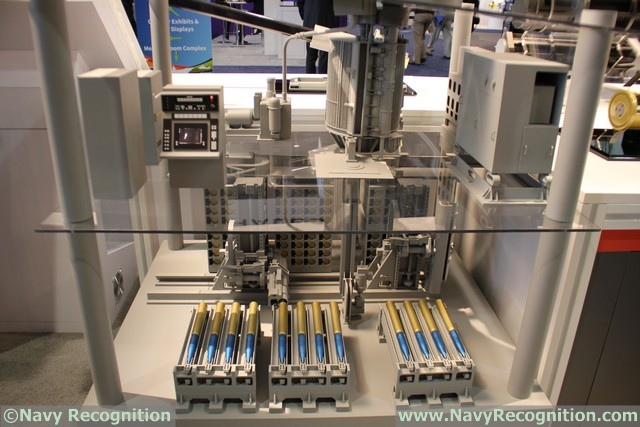 On the foreground at the bottom: Paletized storage racks with 5 inch rounds. Right behind it is the articulating device (note the pair of rails on the deck). Above it (1 deck up) is the ready service magazine.
"The whole magazine has been automated, it is a modular and adaptable design" explained John Perry, Director of Business Development, during SAS 2016.

An articulating device grabs the 5 inch rounds from paletized storage racks. The device then rotates from an horizontal to a vertical position, moves along the rails to position itself right below the ready service magazine (the drum) and finally lifts the round.

Scale model of the Type 26 Frigate main gun loading system
This new loading system leverages technologies developped for the DDG 1000 Zumwalt class destroyer. Perry explained that advantages of the system are that it improves the rate of fire, the sustainment of fire as well as the crew safety: Sailors do not handle ammunition manually anymore.

It is compatible with current and future ammunition (such as SGP and HVP).