a
LIMA 2017 Online Show Daily - Damen MRSS Enforcer 10000
LIMA 2017: Damen Unveils its new MRSS Design Proposal for Royal Malaysian Navy
At LIMA 2017, the Langkawi International Maritime And Aerospace Exhibition currently held in Malaysia, Damen shipyards of the Netherlands unveiled a new design proposal for the Royal Malaysian Navy's (RMN) Multi-Role Supply Ship (MRSS) requirement. Damen's MRSS is based on its Enforcer product line of landing platform docks (LPD), more precisely, the Enforcer 10000.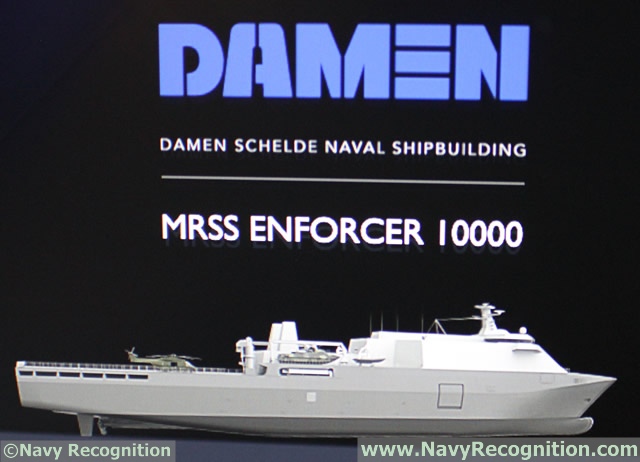 Damen's MRSS Enforcer 10000 LPD at LIMA 2017

Talking to Navy Recognition during the show, a Damen representative said he could not discuss Damen's existing or future local partner but explained the Enforcer design is particulary suited to the RMN's needs.

The Enforcer 10000 measures 157 meters in length with a beam of 24.8 meters. Its range is 10,000 nautical miles. It is capable of transporting 400 to 700 troops as well as two LCMs in the well deck and two LCVPs in davits. Finally it is fitted with two to three helicopter spots.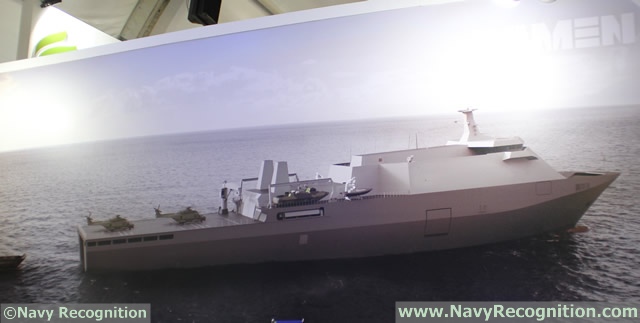 Damen's MRSS Enforcer 10000 LPD at LIMA 2017
According to Damen, The Enforcer LPD is characterised by a stern dock that creates a sheltered environment for the deployment of Landing Craft in adverse conditions, including Sea State 4. This feature results in an extensive weather window enabling operations for 80% of the time worldwide, whereas alternative concepts usually manage only 30%.

The Enforcer design includes various essential, though cost-effective, survivability features:
- Watertight integrity: Compliance to damage stability requirements in docked conditions with unobstructed cargo deck access. No doors between compartments below bulkhead deck.
- Damage control facilities & Fire-fighting systems
- Signature Enhancements: Noise control, RCS Shaping, Ir suppression, Degaussing
- Vulnerability enhancements: NBC Protection, Shock proofing, Blast bulkheads, redundancy on mission-critical system.

There is at least one more contender for MRSS: Malaysian shipyard Boustead and its partner PT Pal from Indonesia. A MoU between the two companies was signed during Indodefence in Jakarta last year. In Malaysia, Damen is partnering with local shipyard Destini Shipbuilding for the delivery of three new OPVs to the Malaysian coast guard (MMEA).