a
LIMA 2017 Online Show Daily - Lacroix SYLENA MK2 Decoy Launcher
LIMA 2017: Lacroix Looking to Provide its Naval Decoy Launcher for Royal Malaysian Navy LCS
At LIMA 2017, the Langkawi International Maritime And Aerospace Exhibition currently held in Malaysia, French countermeasures specialist Lacroix is showcasing its SYLENA MK2 decoy launching system for surface combatants. Lacroix, who is participating to the event for the fifth time, is hopefull to provide the counter measure solution for the Royal Malaysian Navy future Littoral Combat Ship (LCS) currently under construction at Boustead Naval Shipyard.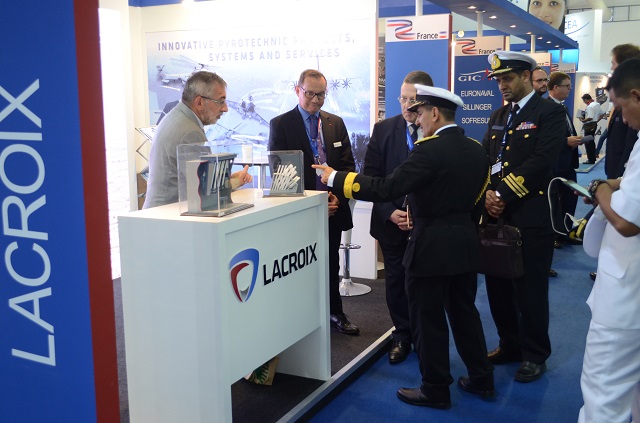 Lacroix stand at LIMA 2017

For over 25 years, powerful calculation capabilities and the miniaturization of electronic components have driven unprecedented advances in missile and torpedo homing device technology, making them highly discriminant with respect to standard techniques employed by conventional countermeasures.

The latest generation of missile homing devices can instantaneously analyze the target's spectral, spatial and temporal data and reject any radar echoes or infrared radiation that are not emitted by a ship's signature. Most of the missiles today, and which are widespread, are equipped with ECCM (Electronic Counter-Countermeasures) capabilities that reject standard decoys employing metal strips (chaff) or infrared compositions, "hot spots".

In the same way, standard countermeasures are systematically rejected by advanced torpedoes having longer ranges and a capacity to analyse the situation, etc.

In order to counter the latest threats, recent technological developments have significantly enhanced countermeasures' credibility and effectiveness.
Video: Lacroix at LIMA 2017
With regard to the LCS program requirements, the SYLENA MK2 system offers an array of flexible and modular solutions capable of being integrated in the ship's combat system (CMS: Combat Management System).

The SYLENA decoy-launcher range is light and compact, thereby meeting the specific requirements for the modernization of existing vessels or equipping new ones.

LACROIX's range of terminal effects for decoying missiles and torpedoes offers operators the highest level of interoperability and interchangeability with SEACLAD countermeasures, as well as numerous logistical advantages for a fleet comprised of a great variety of vessel types for all kinds of missions, while providing modular system compatibility with evolving technology for future acquisitions.

Given the dimensions and requirements of the latest generation in Malaysian vessels, it is only fitting that Lacroix offer to provide the Malaysian Royal Navy with its Sylena MK2 decoy-launcher in view of it arming itself with a complete solution (SEALEM / SEALIR anti-missile) and anti-torpedo (SEALAT) which can be loaded with DCNS' CANTO® decoys.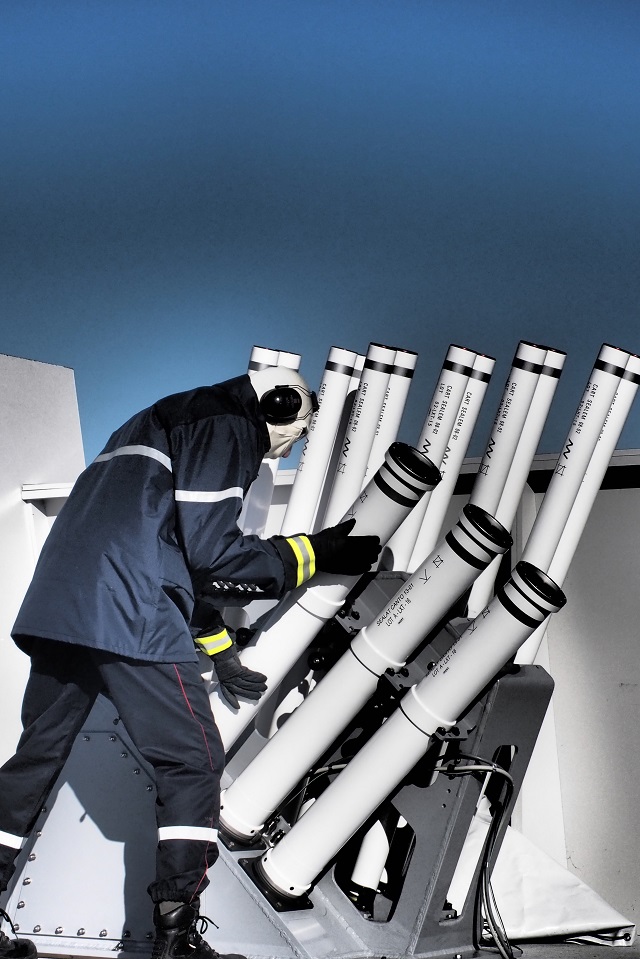 SYLENA MK2 decoy launcher aboard a vessel. Picture: Lacroix
Navy Recognition reported last year during DIMDEX 2016 that the Egyptian Navy became the first customer of the SYLENA MK2, when it selected the system for its future Gowind corvettes.

Talking to Navy Recognition during LIMA 2017, Jean-Marie Pascal, Senior Business Development Manager at Lacroix explained that beyond the LCS program, Lacroix could also improve the decoy launching solution aboard the MEKO-class vessels of the RMN as part of their mid-life upgrade program: "This would upgrade both the interoperability and the changeability as well as streamline the logistics" explained Mr. Pascal, who added that this is in line with the RMN future plans (the famous "15 to 5" plan)..