a
LIMA 2017 Online Show Daily - MMEA OPV
LIMA 2017: Destini & Damen Showcasing the Future OPV of the Malaysian Coast Guard MMEA
At LIMA 2017, the Langkawi International Maritime And Aerospace Exhibition currently held in Malaysia, local company Destini Shipbuilding & Engineering Sdn Bhd (DSBE) is showcasing a scale model of the future Offshore Patrol Vessel (OPV) of the Malaysian Maritime Enforcement Agency (MMEA, the equivalent to the Coast Guard).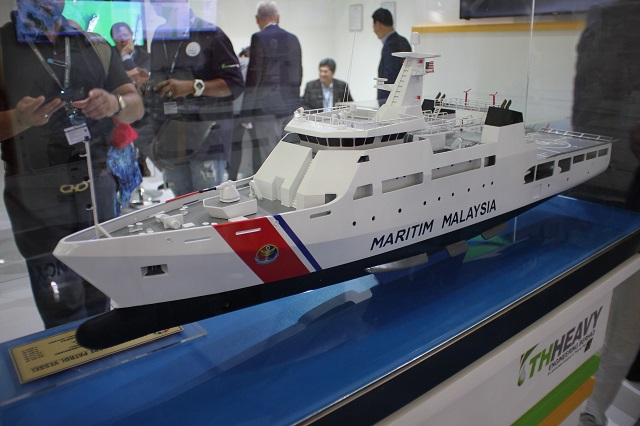 Scale model of the future MMEA OPV on Destini stand at LIMA 2017

DSBE is currently delivering a series of three 83 meters OPVS for the MMEA through a collaboration with TH Fabricators Sdn Bhd. This vessel is designed for border and EEZ surveillance, control, interception, search and rescue missions, disaster relief and humanitarian aid as well as counter piracy and smuggling activites, amongst others.

The new class of vessel displaces 1900 tonnes, has a speed of 20 knots, a range of 4500 nautical miles and may accomodate 91 persons.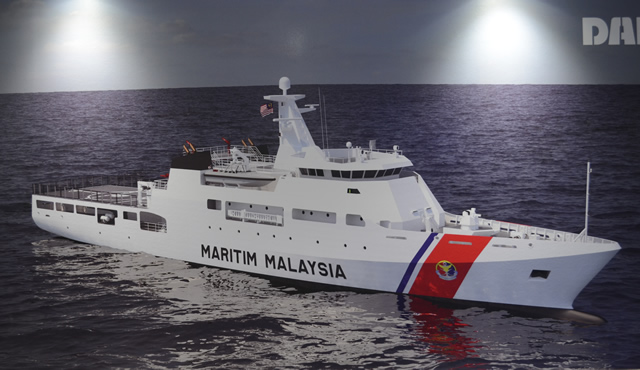 CGI of the future MMEA OPV on Damen stand at LIMA 2017

Scale models of the same vessel are also on display at the MMEA booth and Damen booth. The design of the OPV actually comes from Damen and is based on their "OPV 1800" series.

The future MMEA OPV will be able to deploy one helicopter and two Damen interceptors: one via davit and the other via a stern ramp.

Navy Recognition learned during LIMA 2017 that similar to the smaller NGPC class, the OPV will be fitted with an Aselsan SMASH remote weapon station and Thales Fulmar UAV.