a
LIMA 2017 Online Show Daily - LCS Gowind
LIMA 2017: LCS Gowind Program Update with Boustead and Royal Malaysian Navy
During LIMA 2017, the Langkawi International Maritime And Aerospace Exhibition held last week in Malaysia, Navy Recognition learned the latest details on the Littoral Combat Ship (LCS) Gowind frigate programme from Boustead Heavy Industries Corporation Berhad (BHIC) and the Royal Malaysian Navy (RMN or Tentera Laut DiRaja Malaysia; TLDM).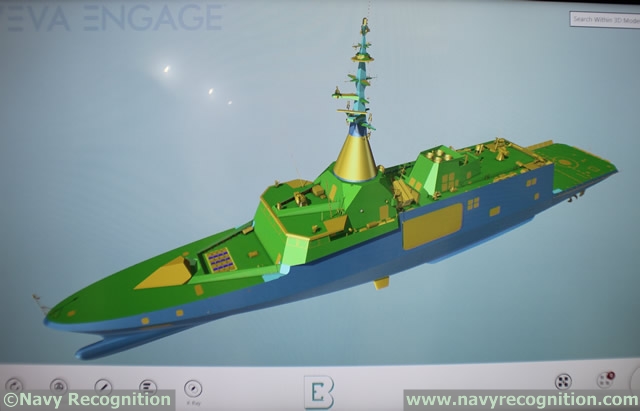 Latest
and most up-to-date
design preview of the RMN Gowind LCS via the AVEVA database on the Boustead stand during LIMA 2017

Talking to Navy Recognition, Anuar Murad, director of Defence & Security at BHIC explained that the launch of the first vessel is still on track for an August 2017 launch at the Lumut shipyard. He also confirmed that the final design has been frozen since July 2016, except for a couple of details such as the decoy launching system (more details about it below). Keel of the first vessel was laid on March 8th 2016.

While the first hull will be launched in the water in August this year (lowered in the water via a platform) the Panoramic Sensors and Intelligence Module (PSIM) won't be installed aboard the vessel before its shore-based systems acceptance test set for June 2018. PSIM is a large module combining sensors, combat system, communications and operations stations. Last but not least, according to the RMN, the first LCS should be operational "around 2023".

The second vessel's keel was just laid on February 28th and is set for a May 2018 launch. Mr Anuar confirmed that the construction and launch rate of the following vessels will increase exponentially.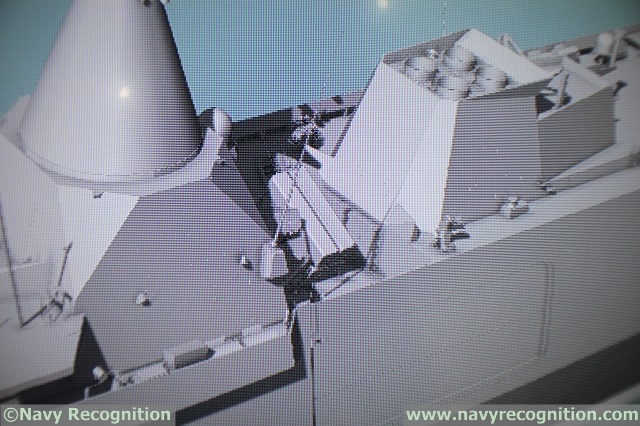 Detailed view of the NSM missile launchers and SuperBarricade decoy launchers (which are set to be replaced with a next generation solution from France).

New Decoy Launching Systems:
Navy Recognition understands that the decoy launching system previously selected for the RMN LCS, the SuperBarricade by Wallop, will be replaced:
While discussing with Navy Recognition during LIMA 2017, Admiral Kamarul, the Chief of Royal Malaysian Navy, said "A next generation decoy launching system from France will be installed on the LCS".
While the Admiral didn't mention a company name, Lacroix was exhibiting at LIMA 2017 and actively promoting its Sylena Mk2 decoy launcher. This system has already been succesfully integrated on the Egyptian Navy Gowind-class corvettes.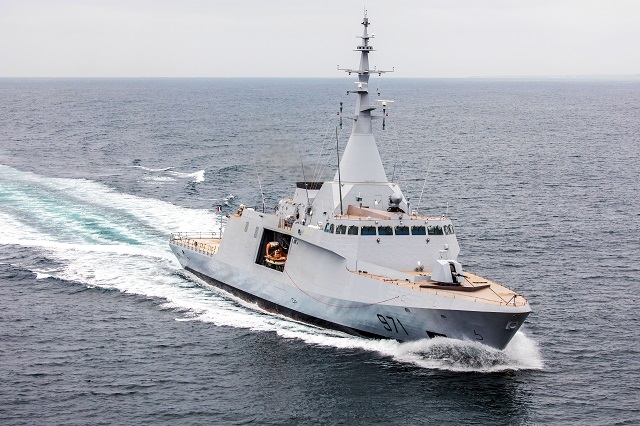 El Fateh, the first Gowind corvette for the Egyptian Navy started its first sea trials just before LIMA 2017 exhibition. DCNS picture.

In early 2011, Malaysia launched the SGPV program with a budget of RM6 billion (US$1.9 billion) calling for six stealth frigates. Several foreign shipbuilders were bidding for the program. In late 2011, it was announced that the Gowind class design by DCNS had been chosen and that the SGPV program had been awarded to Boustead Naval Shipyard/DCNS.

Based on the DCNS Gowind 2500 corvette design (also selected by the Egyptian Navy), the Royal Malaysian Navy future LCS will be slightly larger and thus classified as frigates (with a length of 111 meters and a displacement of 3,100 tons).

The RMN frigates will differ quite a lot compared to the Egyptian Navy Gowind corvettes which may be considered as the "baseline configuration": Navy Recognition was the first one to reveal that the RMN selected Kongsberg's Naval Strike Missile (NSM) for its LCS. This was two years ago during LIMA 2015. The main gun will be a 57mm by BAE Systems Bofors in a stealth cupola similar to the Visby-class stealth corvettes of the Swedish Navy. (In comparison, the Egyptian corvettes will be fitted with MBDA's Exocet anti-ship missiles and 76mm main gun from Leonardo.) The radar will be a SMART-S Mk2 by Thales while the fire control and optronics will be Rheinmetall products. The vessels will be fitted with

integrated communications systems

by Rhode and Schwarz.

For more details, check out our Royal Malaysian Navy LCS / SGPV Technical datasheet