a
LIMA 2017 Online Show Daily - Russian Naval Industry
LIMA 2017: Russia ready to integrate BrahMos missiles into Project 11356 frigates for India
The St. Petersburg-based Severnoye design bureau is ready to integrate the BrahMos attack missile system into the armaments of project 11356 frigates for the Indian Navy after they are ordered by India, Severnoye Deputy CEO and Chief Designer for specialized hardware Vyacheslav Senchurov told TASS at the 14th International naval and aerospace show in Malaysia (LIMA 2017).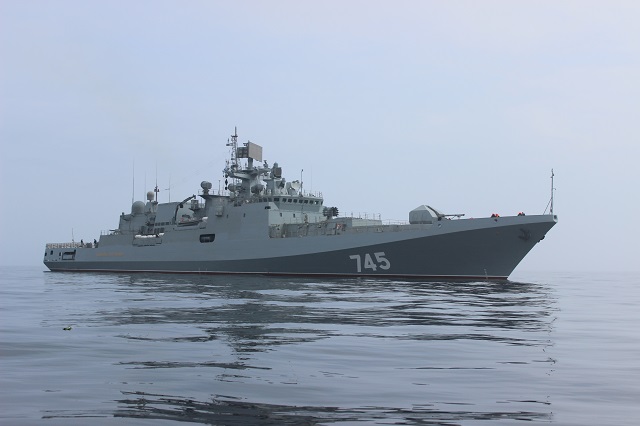 The Admiral Grigorovich class is the latest class of frigates ordered by the Russian Navy for the Black Sea Fleet. Picture: Yantar Shipyard

"No problems will emerge with the integration of the BrahMos missile complex into the frigate. We have already integrated it into the other three Project 11356 frigates acquired by the Indian Navy," he said.

The Severnoye design bureau is the developer of project 11356 warships for the Russian and Indian Navies. The first three out of six frigates operational in the Indian Navy are armed with the Russian-made Club-N strike system while the other three - with the Russian-Indian BrahMos multipurpose missile system that is capable of hitting both sea surface and ground targets.

Director for International Cooperation and Regional Policy at Russia's State Corporation Rostec Viktor Kladov, who heads the joint delegation of Rostec and Rosoboronexport arms trader at the show, said earlier that the planned contract for the delivery of project 11356 frigates for the Indian Navy would be implemented under the "two plus two" formula:" two frigates are to be built in Russia and delivered ready-for-use to India and the other two would be constructed by the Indian shipbuilding industry at one of the national shipyards.

© Copyright 2017 TASS. All rights reserved. This material may not be published, broadcast, rewritten or redistributed.