a
LIMA 2017 Online Show Daily - Kership LSPV 90
LIMA 2017: Kership from France Showcased its Logistic Support & Projection Vessel LSPV 90
At LIMA 2017, the Langkawi International Maritime And Aerospace Exhibition held last week in Malaysia, French company Kership (a joint-venture between DCNS and Piriou) was showcasing one of the latest addition to its range of surface vessels: The Logistic Support & Projection Vessel (LSPV) 90.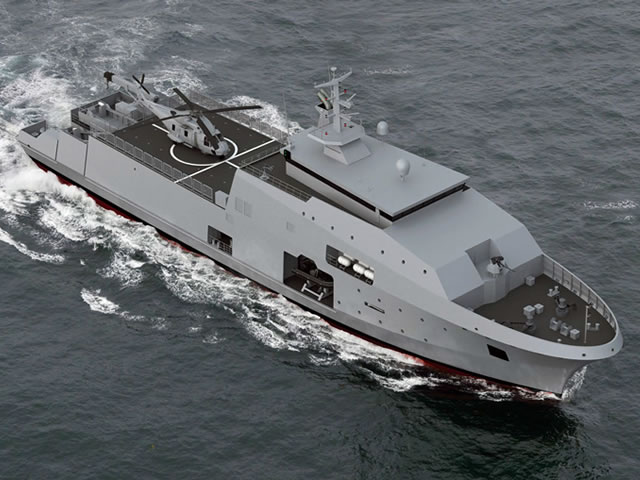 Logistic Support & Project Vessel LSPV 90. Image: Kership

A company representative at the show told Navy Recognition that the LSPV 90 was specifically designed to answer the needs of a customer and was first unveiled (to select potential customers) during the Euronaval 2016 exhibition in October 2016. "The design of the vessel is still ongoing and we are still working on some details" explained the Kership representative.

The design of the LSPV 90 is quite unique: With just 90 meters in length, you get a true multi-purpose vessel capable of a large spectrum of missions such as EEZ surveillance, peacekeeping forces deployment, disaster-relief or humanitarian crisis intervention...

According to Kership, The LSPV 90 is a versatile ocean-going vessel designed for logistic support missions, joint forces projection and medical support. Her amphibious capabilities, large storage and cargo capacities make the ship particularly adapted to advanced support missions.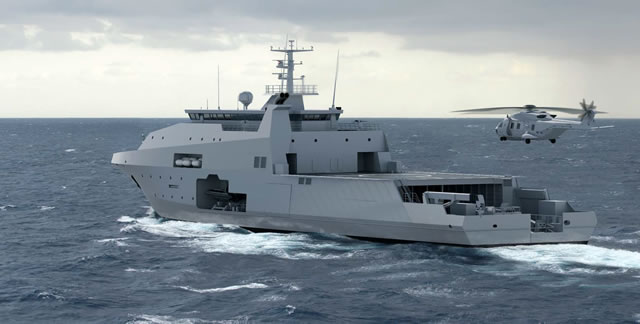 Logistic Support & Project Vessel LSPV 90. Image: Kership
The vessel is quite uniquely fitted with two stern ramps, not for RHIBs but to easily launch and recover two 9 meters LCUs (Landing Craft Utility). In addition, two 7 meters RHIBs may be deployed via davits.

Systems and equipment depend on customers' requirements, but based on the image, the LSPV 90 is fitted with a Leonardo Marlins 30mm remote weapon station located forward and acting as main gun. It is also fitted with two manned 12.7mm stations. The vessel comes with a CIC as well as with a dedicated joint forces command and control room. SATCOM, tactical datalink, R-ESM and C-ESM suites and DCNS' POLARIS shipborne system for maritime surveillance may all be fitted as optional equipment.
There is a 400m² hangar easily accessible via a roll on / roll off ramp. The vessel also comes with a NATO Role 2 hospital with 1 operation room, 4 berth for heavy injury and 4 berth for light injury. The flight deck may accommodate a 13 tons-class helicopter as well as a VTOL UAV.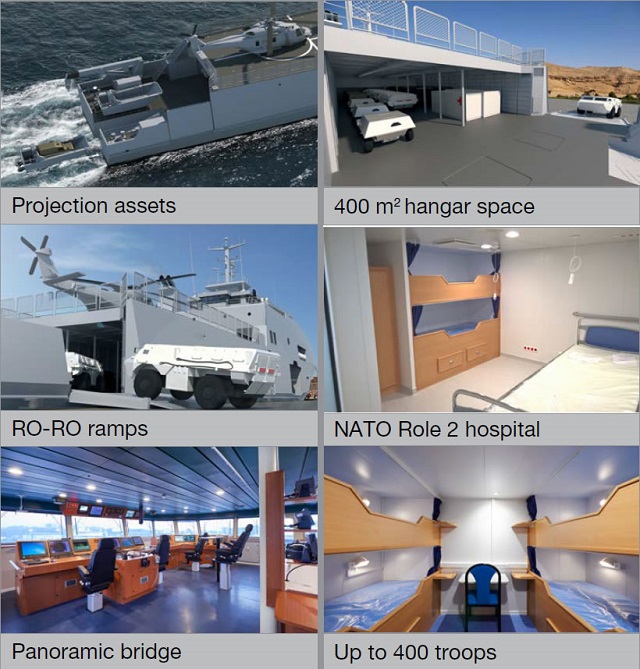 Image: Kership
Displacing 3,000 tons, the LSPV measures 89.9 meters in length with a breadth of 16.7 meters and a draft of 4.3 meters. The hull and superstructure are made of steel while the bridge is aluminum.

The vessel may accommodate a total of 439 people onboard:
- 39 Crew
- 150 troops and medical staff in cabins
- 250 additional accommodation capacity for troops in modular zones

The vessel speed is 16 knots thanks to its two medium speed diesel engines and controllable pitch propellers.

In terms of performance, Kership's LSPV 90 has a range of 11,000 nautical miles at 12 knots. Its endurance is 10 up to 45 days.